Vacation Rental Assistance is the premier short term property management company in Lake Tahoe, servicing the South Lake Tahoe, North Lake Tahoe, and Truckee areas. Since 2008, we forged and optimized best practice field service operations. From this foundation we crafted a competitive reservation model, with above average performance. Our service foundation and top tier listing management, along with our founding principles, including an insatiable desire to be the best, puts us in a terrific position to provide the best care and earnings for short term vacation rentals in Lake Tahoe. We would love to talk to you about managing your home and how we can help.
A Property Management Service Designed for Lake Tahoe
Vacation Rental Assistance provides comprehensive and best-in-class management services to Lake Tahoe property owners. Our locally-based field service is available to ensure every aspect of your property is always in top condition. Enjoy the peace of mind that comes from knowing that our 24/7 emergency readiness team is accessible and highly capable of resolving unexpected problems that arise.
Additionally, we'll assist you with vacation rental ordinance compliance; completing permit and permit renewal applications, and business licenses, tracking and paying TOT, assisting with fire inspections, and navigating other areas of complex vacation rental ordinances.
Our approach to revenue management is dynamic and adaptable, ensuring we maximize your rental income 12 months of the year. To ensure your property is displayed to potential guests in the best light possible, we coordinate staging and photography services.
Our cross-network marketing ensures that your property is distributed nationally and internationally on Airbnb, VRBO, Expedia, Travelocity, Orbitz, as well as other affiliates and our own channel.
Overall, our services go beyond the norm. Your property is in good hands with Vacation Rental Assistance.
5-STAR HOSPITALITY FOUNDATION
Field service and turn around operations are the most challenging area of vacation rental management, especially in Tahoe's four season, transient workforce, and mountain environment. Instead of overlooking this crucial factor of the business we've spent over a decade crafting our approach, including:
– Local, legal, and experienced in house labor;
– 24/7 support;
– professionally sourced textiles and supplies;
– strategically designed systems; and
– a lot of care.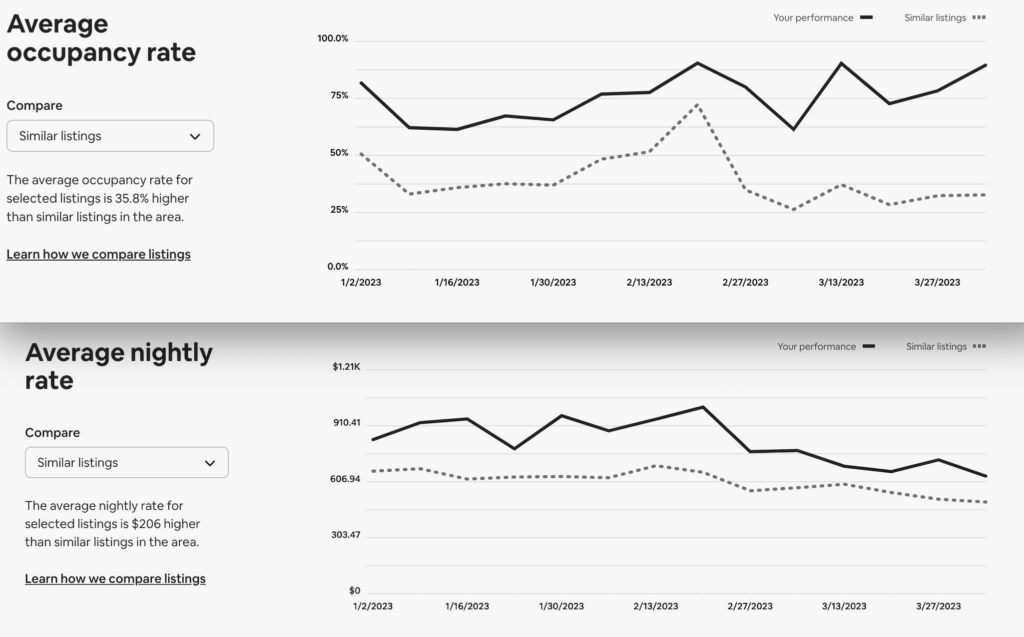 LISTING PERFORMANCE
Listing development and distribution, home optimization, revenue management, and excellent customer service are critical to a successful vacation rental.

Our team will work closely with you to optimize your vacation rental, providing top accommodations for guests. The revenue team assesses market demand and availability, moving prices accordingly. We're fast to respond to guests inquiries and issues, and do so with a spirit of helpfulness.

We constantly outperform the market with top nightly rate, occupancy, and total revenue.
PRICING AND NEXT STEPS
Our in house hospitality foundation enables 5-star services at competitive commission rates. With this advantage we balance costs, fees, and competitiveness in a flexible, simple, and friendly pricing model.

We'd love to discuss how we can help you reach your vacation rental goals.