Vacation Rental Assistance is the primer short term property management company in Lake Tahoe, servicing the South Lake Tahoe, North Lake Tahoe, and Truckee areas. Since 2008 we've forged and optimized best practice field service operations. From this foundation we built a top shelf reservation model, with above average performance. Our service foundation and top tier listing management, along with our founding principles, including an insatiable desire to be the best, have lead to our current offering, VRA Care Plus.
5-STAR HOSPITALITY FOUNDATION
Field service and turn around operations are the hardest part of vacation rental management, especially in Tahoe's four season, transient workforce, and tourist environment. Most vacation rental companies start with listing management and outsource their operations, leading to poorer quality, less than ideal guest experience, and lower earnings. We did the opposite, mastering the hardest part first with:
– Local, legal, and experienced in house labor;
– 24/7 support;
– professionally sourced textiles and supplies;
– strategically designed systems; and
– a lot of care.

From here we constructed a high performing guest services, listing, and revenue management program.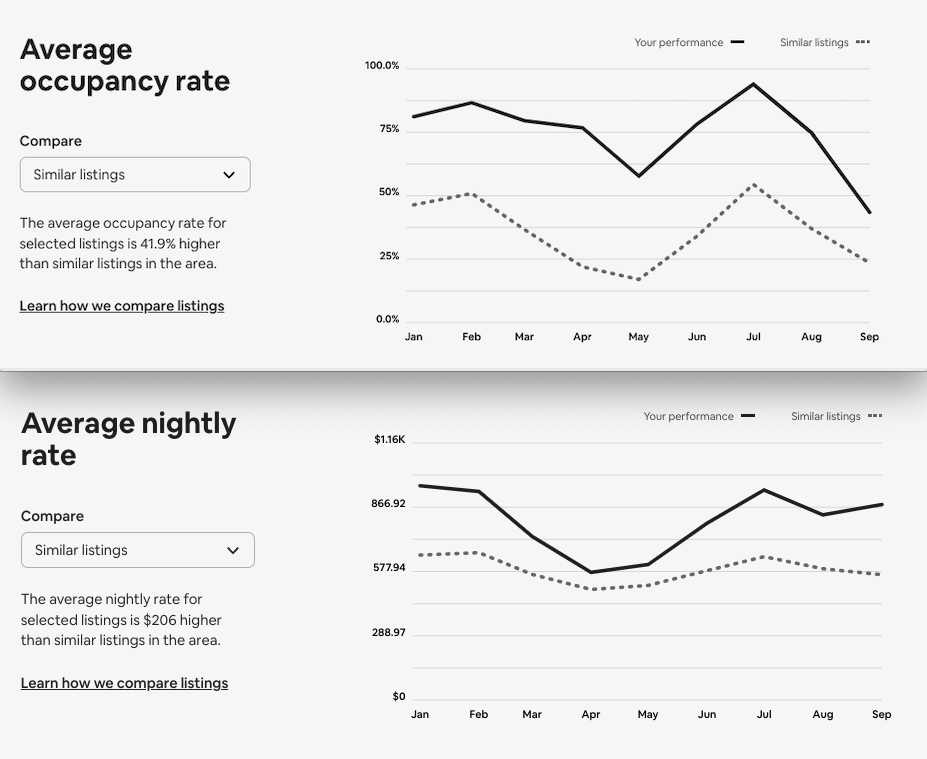 LISTING PERFORMANCE
Listing development and distribution, home optimization, revenue management, and excellent customer service are key to a successful vacation rental.

Our team works closely with homeowners to optimize their vacation rentals and provide top accomidationis for guests. The revenue team assesses market demand and availability and adjusts prices continuously. We're fast to respond to guests inquiries, and do so with a spirit of helpfulness and fairness.

We constantly outperform the market with top nightly rate, occupancy, and total revenue.
PRICING AND NEXT STEPS
Our in house hospitality foundation enables 5-star services at industry low commission rates. With this advantage we balance costs, fees, and competitiveness in a flexible, simple, and friendly pricing model.

Our pricing is based on several factors including the home, location, and owner usage.