A Sizzling Winter Escape: Lake Tahoe Rentals with Hot Tubs
As winter drapes its snowy blanket over the scenic vistas of Lake Tahoe, there's no better way to revel in its icy allure than by retreating to a cozy vacation rental. But what truly elevates this experience from delightful to divine is the luxury of a steaming hot tub. Imagine soaking under a star-studded sky, with snowflakes gently falling around you, and the majestic Tahoe mountains as your backdrop. Dive into our curated list of Lake Tahoe's finest vacation rentals featuring hot tubs, and prepare for an enchanting winter escape unlike any other.
Winter Wonders with a Splash of Warmth
Why choose a vacation rental with a hot tub? There are many benefits to having your own private hot tub for your dreamy winter escape.
Therapeutic Relaxation: After engaging in winter activities like skiing or snowboarding, the warmth and massage of a hot tub can help soothe muscle aches and tensions, providing therapeutic relief and promoting relaxation.
Scenic Immersion: Lake Tahoe's snow-capped mountains and tranquil ambiance create a picturesque backdrop. A private hot tub offers a unique opportunity to immerse oneself in this beauty, allowing for a serene and intimate connection with nature while staying warm and cozy.
Enhanced Privacy: Having a private hot tub ensures an exclusive and uninterrupted experience. This privacy is perfect for those seeking a quiet and intimate setting, away from the potential crowds of public spas or hotel facilities, making the vacation more relaxing and luxurious.
Our Top 5 Picks
While there are many beautiful Lake Tahoe vacation rentals with hot tubs, here is a list of our top 5 most recommended retreats;
Grouse Ridge Retreat – Luxury Ski-In Home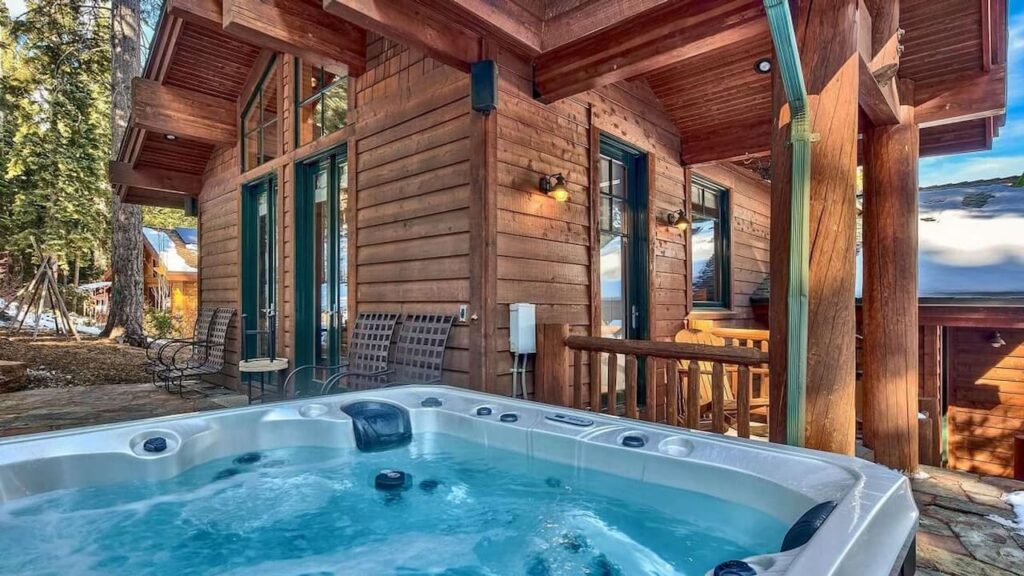 Experience the epitome of Tahoe luxury at the expansive Grouse Ridge Retreat. Spread over a generous 4,500 sq ft, this 4-bedroom, 5.5-bath sanctuary is ideal for families, accommodating up to 14 guests with ease. After a day exploring Tahoe's trails, beaches, and downtown attractions, retreat to the comforts of our mountain abode. Dive into relaxation with the private outdoor hot tub, sauna, or the master bathroom – a space so splendid, it's been showcased on HGTV. 
The home's living room great room is perfect for gathering, where you can bask in the warmth of a crackling wood fire. Glorious mountain views greet you each morning, best enjoyed with a freshly brewed coffee. Food enthusiasts will relish the opportunity to prepare and savor gourmet feasts, while the entertainment room provides a space for guests to unwind.
A highlight for the little ones is the built-in bunk bed room, promising cozy nights and playful mornings. Grouse Ridge Retreat isn't just a place to stay—it's where Tahoe memories are crafted. Perfect for winter getaways, come and indulge in the Lake Tahoe experience.
The Tahoe Treehouse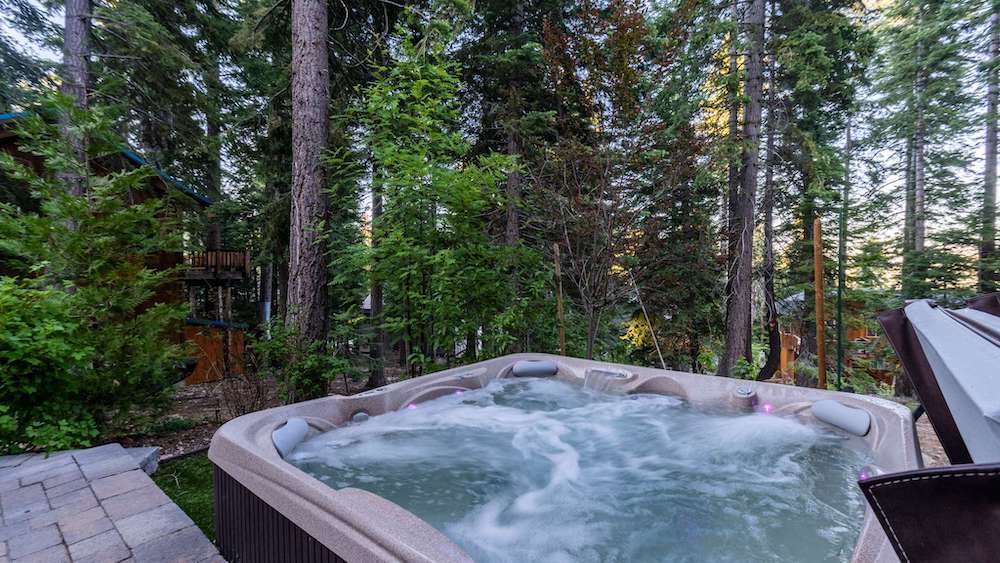 Nestled amid Tahoe's towering pines, the Tahoe Treehouse invites guests to immerse themselves in nature's beauty without compromising on luxury. This recently renovated retreat in Tahoe Vista seamlessly blends modern amenities with rustic mountain charm. Inside, a gourmet kitchen awaits, complete with top-tier appliances, ready to inspire culinary adventures.
Every room, from the bathrooms to the living spaces, boasts high-end finishes, reminding guests of both elegance and the essence of the mountains. After a day exploring the nearby Lake Tahoe or hitting the slopes at Northstar California Resort, unwind in the seclusion of the private hot tub, letting the warm water soothe your muscles.
The home comfortably sleeps up to 10 adults (plus a few kids), with sleeping arrangements spanning over 4 spacious bedrooms. Beyond its plush interiors, the property also offers the convenience of a private garage and the warmth of a cozy fireplace. 
PeakView Tahoe – Modern Cabin Retreat
Welcome to PeakView Tahoe – where the allure of the mountains meets unparalleled luxury. Set against the breathtaking backdrop of Mt. Tallac, this retreat promises year-round sunset vistas that paint the sky in a palette of colors. While its prime location offers immediate access to world-class hiking, mountain biking, skiing, and more, the home itself is a destination in its essence.
Six meticulously designed bedrooms beckon restful nights, while the expansive great room, boasting a 13-foot ceiling and a 77-inch TV, provides the perfect space for relaxation and entertainment. Venture outside to melt away your cares in the lavish private hot tub, or head to the state-of-the-art media room, complete with shuffleboard, an arcade table, a massive 135-inch screen, and a bespoke bar.
PeakView comfortably accommodates up to 14 adults and 5 children under the age of 6, making it an ideal haven for friends to create cherished memories or families to bask in holiday cheer. 
Blue Mountain Majesty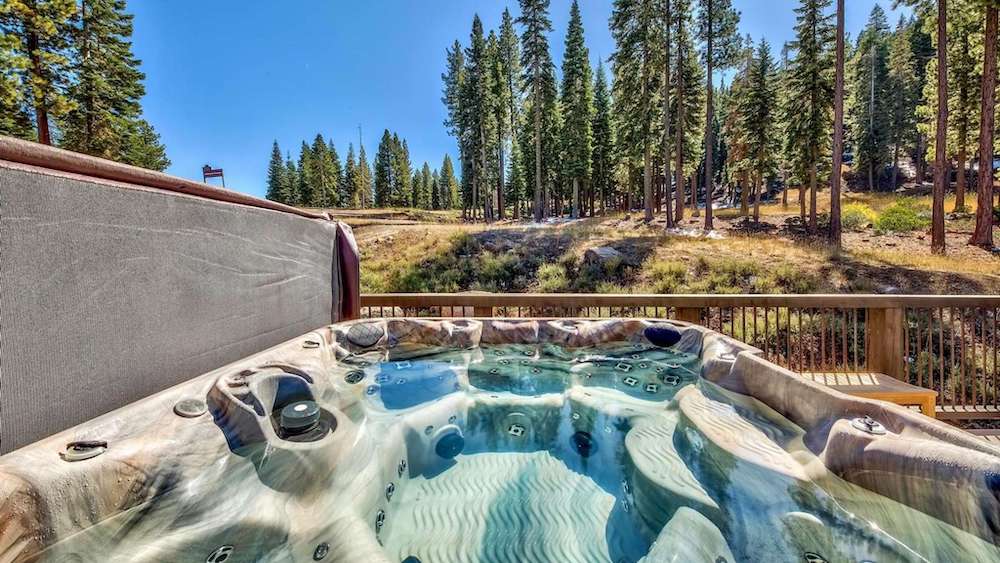 Discover the grandeur of the mountains paired with opulence at Blue Mountain Majesty, a sprawling 10,676 square-foot sanctuary, crafted in 2019. Perched seamlessly on Northstar's ski resort, guests are gifted with direct access to the renowned Glades and Timberline ski runs.
Beyond skiing, this luxury haven beckons relaxation and entertainment; whether it's basking in après-ski moments on the expansive deck, engaging in friendly competition in the game room equipped with football and pool table, or indulging in culinary delights from the chef's kitchen.
The residence comfortably hosts up to 16 adults, and accommodates an additional 10 children under 12 years, making it an ideal setting for significant corporate getaways or grand family gatherings. An iconic feature is the pair of hot tubs adorning the private deck, complemented by a mesmerizing outdoor fire pit – a perfect spot for stargazing and soulful conversations. At Blue Mountain Majesty, guests are guaranteed the epitome of Lake Tahoe luxury.
Luxury Remodeled Rental Home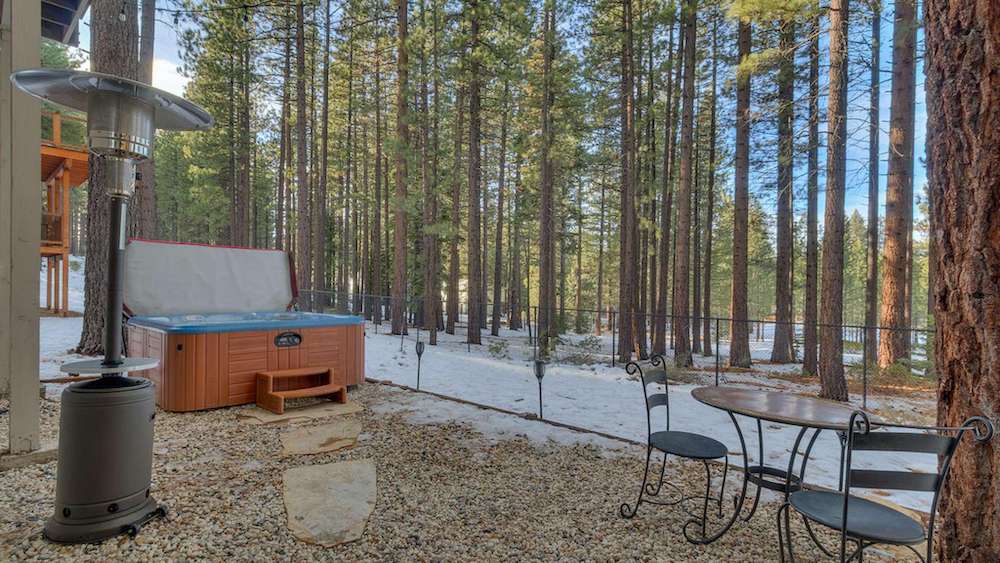 Welcome to a slice of Lake Tahoe luxury, tucked away in the heart of Montgomery Estates in central South Lake Tahoe. Every inch of this 6-bedroom, 3-bathroom home radiates with meticulous attention to detail, presenting a blend of style and comfort. Whether you're slipping into the serenity of one of the two master suites, enjoying a cinematic experience in the home theater, challenging friends on the PS4s, or perfecting your shot at the pool table, there's something for everyone.
Beyond the interiors, a private outdoor hot tub beckons relaxation against Tahoe's tranquil backdrop. Conveniently located, you're mere minutes from the legendary slopes of Heavenly, the shimmering waters of Lake Tahoe, high-energy casinos, and a range of dining options – all while being distant enough to escape the city's hustle.
Crafted with an unwavering commitment to quality, this home sleeps up to 19 guests (including younger children), and is perfect for large families, corporate groups, and other gatherings. The home also boasts a spacious 2-car garage while also being wheelchair accessible. Dogs are welcome, so your furry friends are welcome to bask in the winter wonderland also.
Bathe in Luxury This Winter
Whether you're seeking solace after a day on the slopes, a serene moment under the starlit sky, or a space for intimate conversations with loved ones, a vacation rental with a hot tub offers an unparalleled experience. In Lake Tahoe, nature and luxury seamlessly blend, and our vacation rentals are no exception. So, as you plan your next winter escape, let the promise of a steamy, bubbly retreat help you choose your dream winter vacation rental.