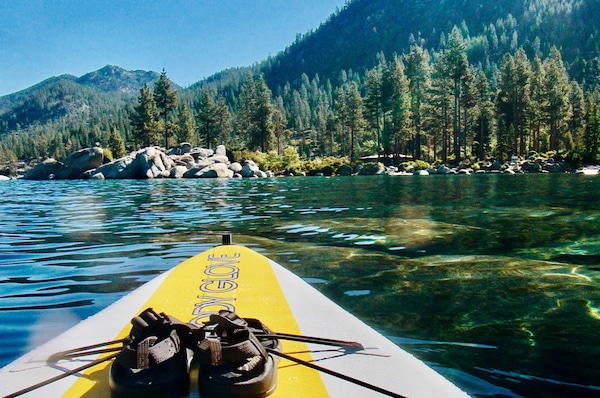 A Beginner's Guide to Stand-Up Paddleboarding in Lake Tahoe
The serene blue expanse of Lake Tahoe, framed by the majestic Sierra Nevada Mountains, is a dream destination for water enthusiasts. Among the myriad of activities that this natural gem offers, stand-up paddleboarding (SUP) has emerged as a favorite for both residents and visitors alike. Whether you're a seasoned paddler seeking the serenity of gliding on water or a curious newbie eager to dip your paddle for the first time, Lake Tahoe provides the perfect backdrop. 
Additionally, with numerous Lake Tahoe vacation rentals dotting the shoreline, you're never too far from your next SUP adventure. Dive in as we paddle through the essentials of mastering this exhilarating sport amidst the breathtaking vistas of Lake Tahoe.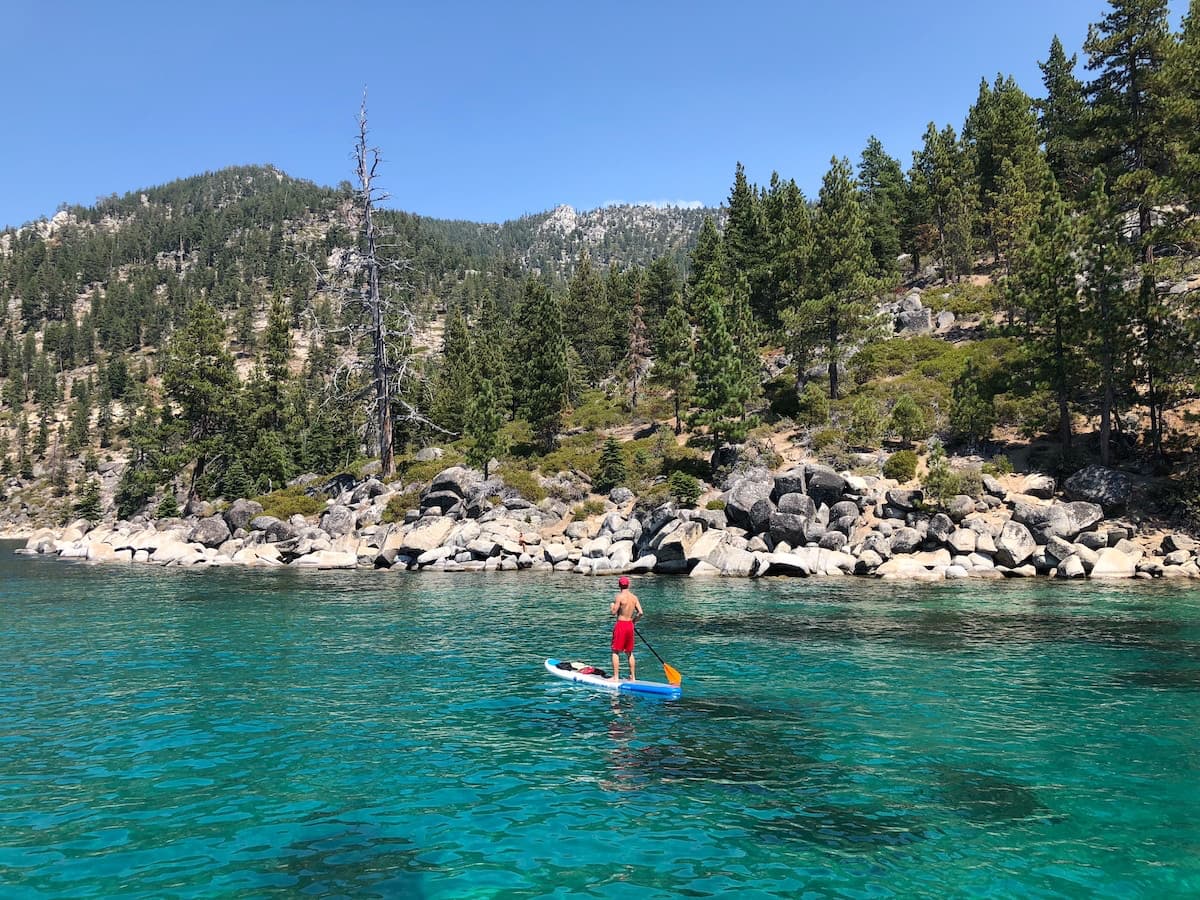 Explore Lake Tahoe's Paddleboarding Havens
Lake Tahoe, with its pristine blue waters surrounded by stunning alpine scenery, offers visitors numerous ideal spots for stand-up paddleboarding (SUP). Here are some of the best SUP spots around Lake Tahoe for paddleboarders of all levels.
Sand Harbor
Loacted on the Nevada side of Lake Tahoe, Sand Harbor boasts pristine blue waters and scenic sandy beaches, making it a premier spot for stand-up paddleboarding. The gentle, clear waters offer both beginners and experienced paddleboarders a serene environment to glide and explore. For those without equipment, paddleboard rentals are conveniently available nearby, ensuring that everyone can dive into the majestic beauty of Sand Harbor with ease.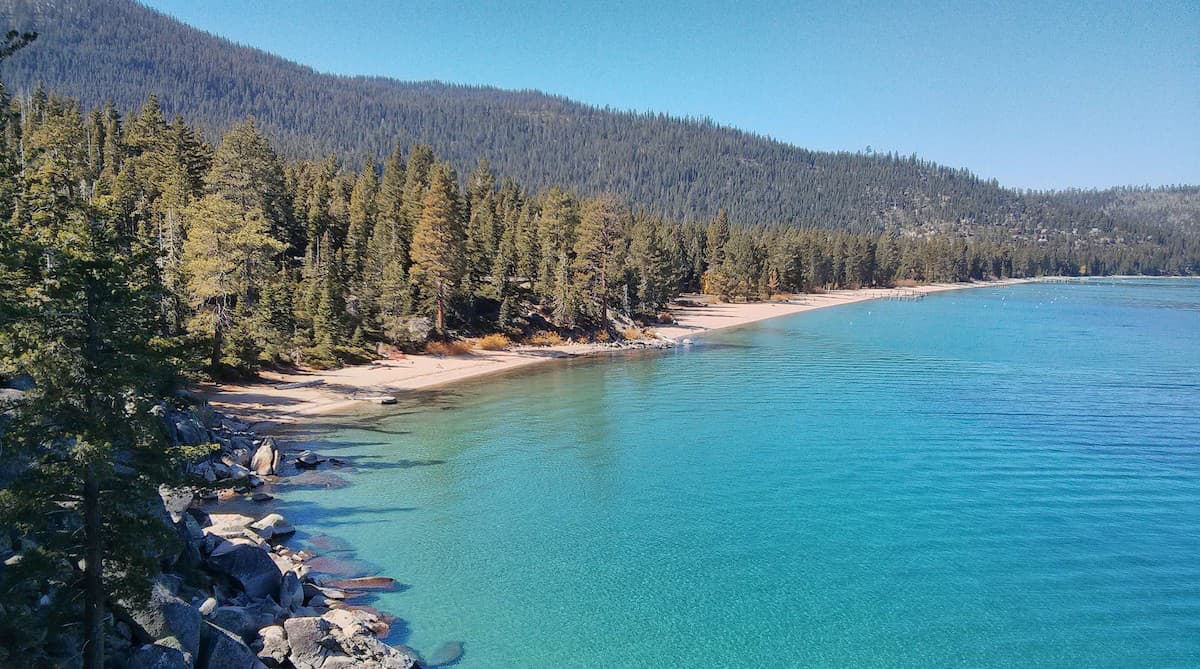 Photo Credit: 'D.L. Bliss State Park beach' by Mark Doliner via CC BY-SA 4.0
D.L. Bliss State Park
Located on the western shore of Lake Tahoe, D.L. Bliss State Park offers paddleboarders a tranquil escape with its calm waters and panoramic mountain views. Beyond paddleboarding, the park is a haven for hiking, picnicking, and exploring the famed Balancing Rock. While the park's natural beauty is undeniable, visitors should note that while nearby towns may offer paddle board rentals, direct rentals within the park itself might be limited. It's advisable to rent equipment beforehand or check local rental services to enhance your SUP experience.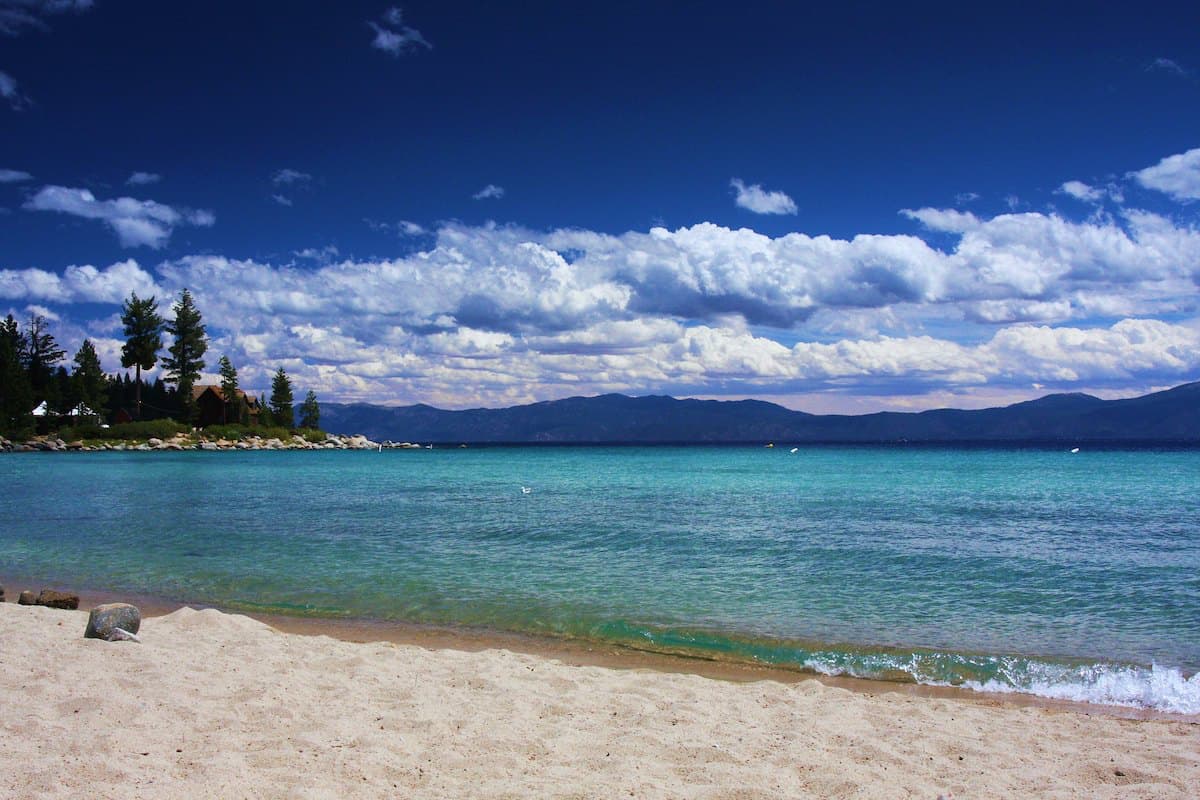 Photo Credit: 'Meeks Bay – Lake Tahoe' by the_tahoe_guy via CC BY 4.0 DEED
Meeks Bay
Situated just a short drive north of D. L. Bliss State Park on the western shore of Lake Tahoe you have Meeks Bay; a gem for stand-up paddleboarding enthusiasts, offering crystal-clear waters and gentle waves ideal for both novices and experts. The bay's serene ambiance is complemented by its sandy beaches, making it perfect for sunbathing and lakeside relaxation. For those without their own gear, paddleboard rentals are available nearby, ensuring a hassle-free and immersive SUP experience in this picturesque bay.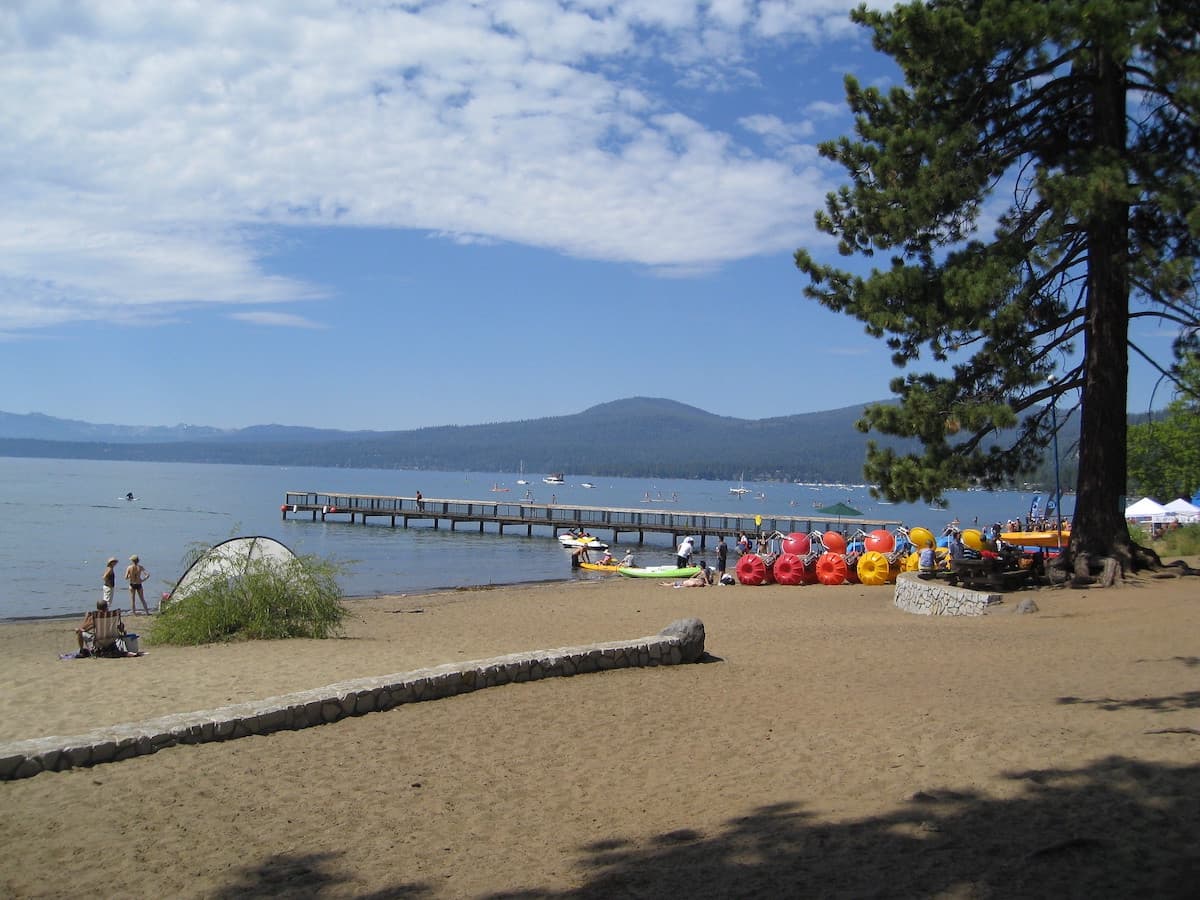 Photo Credit: 'Kings Beach' by Chris Yunker via CC BY 4.0 DEED
Kings Beach
Situated on the vibrant north shore, Kings Beach is a stand-up paddleboarding haven, presenting expansive sandy stretches and tranquil waters perfect for paddlers. Ideal for both beginners and seasoned SUP enthusiasts, the beach offers nearby paddle board rentals, ensuring everyone can embrace the Lake Tahoe experience.
After a refreshing paddleboarding session, visitors can indulge their taste buds at a myriad of nearby cafes and restaurants, offering everything from lakeside dining to cozy cafe atmospheres, making it a perfect spot to refuel and reminisce about the day's adventures. Be sure to check out Jason's Beachside Grille and Tree House Cafe, all beside King's Beach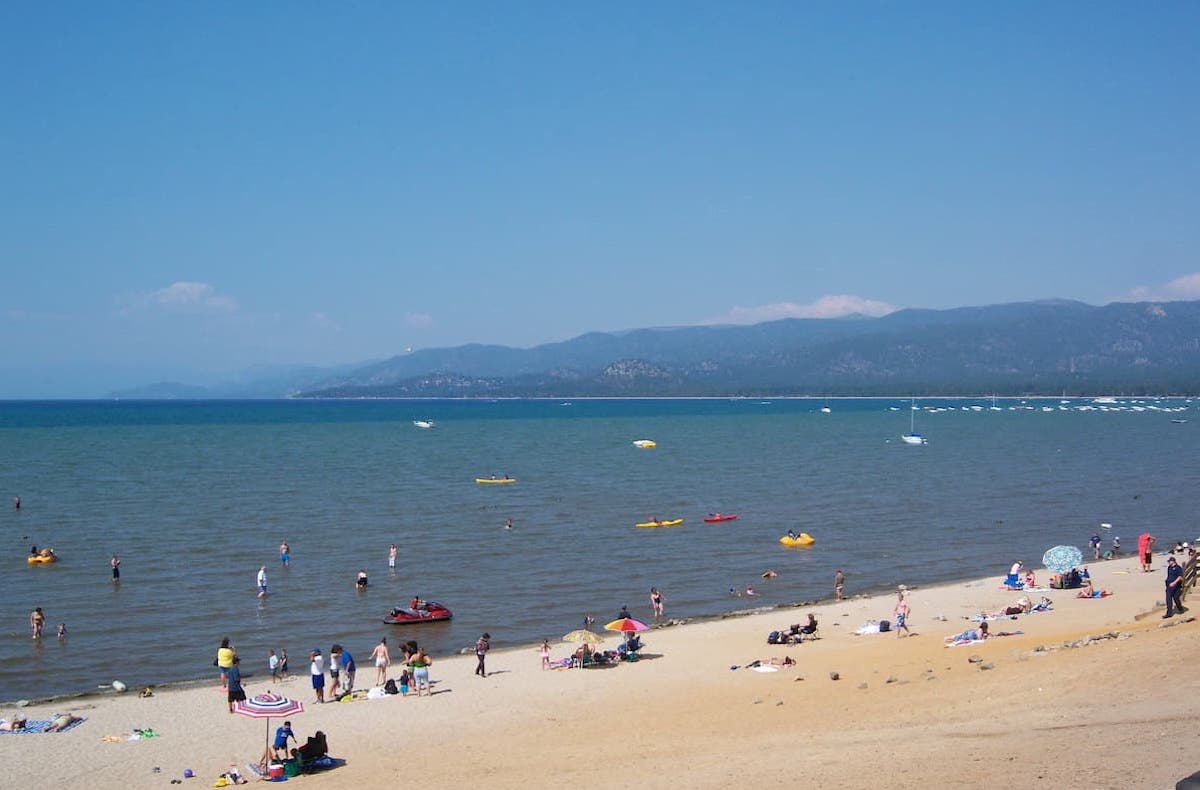 Photo Credit: 'El Dorado Beach, South Lake Tahoe' by Kevin Burnett via CC BY-NC 4.0 DEED
El Dorado Beach
Perched in South Lake Tahoe, El Dorado Beach offers a classic Tahoe blend of sparkling waters and scenic views, beckoning stand-up paddleboarders of all levels. Its calm waters and accessible shoreline make it an enticing spot for both novice and seasoned paddlers. Beyond SUP, the beach is bustling with activities from picnicking to beach volleyball. For those arriving without equipment, paddleboard rentals are conveniently available in the vicinity.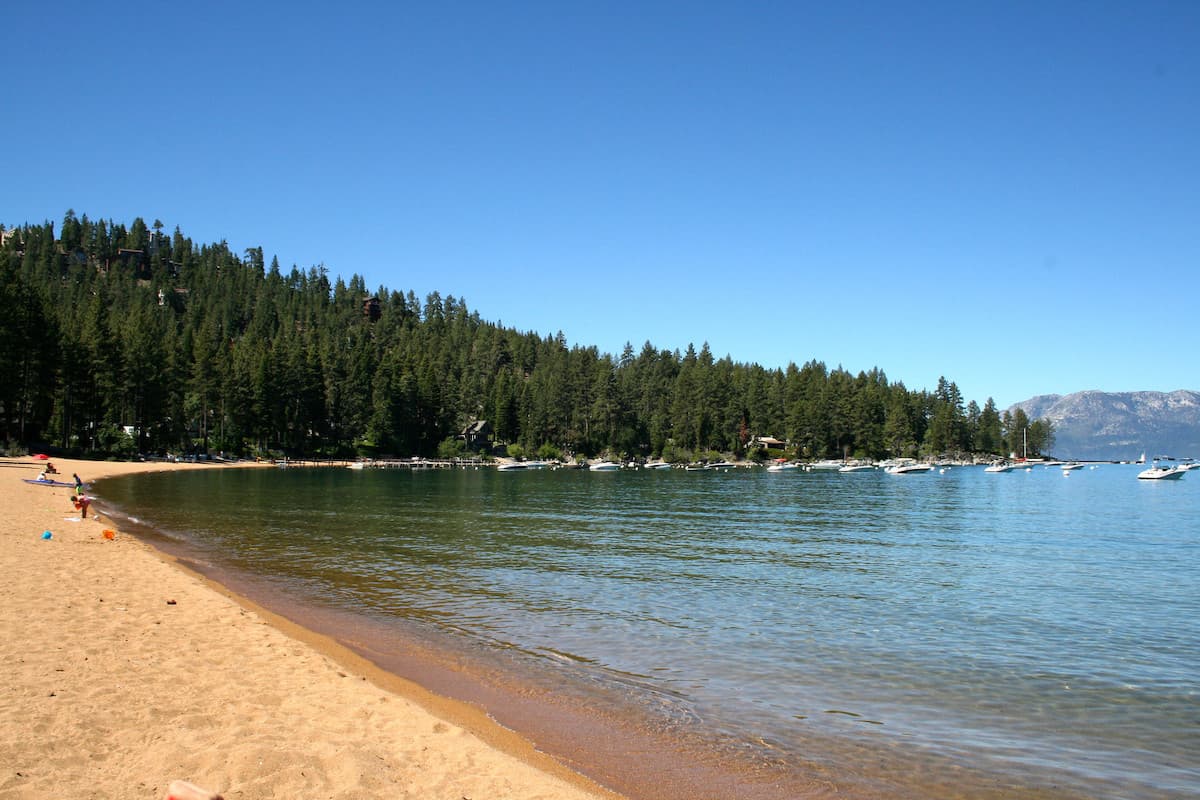 Photo Credit: 'Zephyr Cove Beach, Lake Tahoe' by Brian Shamblen via CC BY 4.0 DEED
Zephyr Cove
Paddle boarding at Zephyr Cove is a slice of Lake Tahoe paradise, offering crystal-clear waters framed by a scenic shoreline. Situated on the southeastern shore of the lake , stand-up paddle boarders will find the cove's gentle waves and breathtaking sunrise and sunset views particularly enchanting. Beyond SUP, the cove hosts a myriad of water activities, from jet skiing to parasailing. Those in need of equipment will be pleased to find paddleboard rentals available nearby and there is parking all along the beachfront.
Photo Credit: '@ Baldwin Beach, South Lake Tahoe' by Markus Spiering via CC BY-NC-ND 4.0 DEED
Baldwin Beach
Found on Lake Tahoe's south shore, Baldwin Beach is a serene retreat for stand-up paddleboarders, offering miles of white sandy shoreline and crystal clear turgeouse waters. The beach is part of a long sandy shoreline made up of Kiva, Pope and, of course, Baldwin Beach. Kiva is for dog owners, Pope is for endless family fun, and Baldwin is the premier spot to shove off and paddle to Emerald Bay.
The beach's tranquil waters make it a favored spot for those seeking a peaceful SUP experience. Aside from paddleboarding, Baldwin Beach is perfect for sunbathing, swimming, and beachside picnics. Visitors might need to rent paddle boards from nearby towns or rental services, as direct rentals on the beach may be limited.
Kiva Beach
Located beside Baldwin Beach on Lake Tahoe's south shores, Kiva Beach is one of the most splendid beaches. Kiva Beach offers a vast sandy stretch with warm, shallow waters and sweeping views of the Sierra Nevadas. Kiva Beach also has a complimentary parking lot. The extensive sandy terrain is ideal for sun-lovers to relax post-paddle, while its shelf-like feature ensures waters remain shallow for several hundred yards, which makes it perfect for beginners.
Kiva Beach is also dog friendly, so if your furry friend loves to take to the waters with you, this beach is the place for you. For those seeking the iconic view of Mount Tallac, Kiva Beach is undeniably the prime spot. While paddleboard rentals might be available in adjacent areas, it's recommended to check availability in advance.
Cave Rock
Positioned on the lake's eastern side, Cave Rock stands as a remarkable rock formation, its silhouette interrupted by tunnels crafted for Highway 50. The deeper waters and potential for bigger waves around this landmark offer a thrilling challenge for more experienced stand-up paddleboarders. Paddlers venturing north from Cave Rock will uncover hidden coves and additional captivating rock formations.
A prime allure of paddleboarding at Cave Rock is undoubtedly the sweeping panoramic views of the towering mountains to the west. Those looking to rent paddle boards should note that they might need to source their rentals from nearby towns or services, as direct rentals at Cave Rock itself could be limited.
Best Time to SUP in Lake Tahoe
The best time to go stand-up paddleboarding in Lake Tahoe is during the summer months, from June to August, when the weather is warm and the lake's waters are relatively calm. Specifically, early mornings just after sunrise offer the calmest conditions, making it ideal for paddleboarders to enjoy the tranquil waters and stunning mountain backdrop without the interference of strong winds or crowded waters.
However, spring and autumn also offer unique paddleboarding experiences. In spring, the melting snow can make the water cooler, but the beauty of blooming flora creates a picturesque backdrop. Autumn, on the other hand, brings a serene atmosphere with fewer crowds and the stunning colors of fall foliage, though one should be prepared for crisper air and cooler water temperatures.
Top Tips for SUP in Lake Tahoe
If you're planning to SUP in Lake Tahoe, here are 5 top tips to ensure a safe and enjoyable time:
Mind the Weather: Lake Tahoe's conditions can change rapidly. Before heading out, check the day's weather forecast, paying particular attention to wind conditions which can impact SUP experiences.
Dress Appropriately: The lake's waters, even in summer, can be chilly. Wear layers or a wetsuit, and always don a life jacket for safety.
Stay Hydrated and Protected: At Lake Tahoe's high altitude, the sun is more intense and dehydration can occur faster. Always wear waterproof sunscreen, sunglasses, and bring along a secured water bottle.
Stick Close to the Shore: Especially for beginners, paddling near the shoreline offers protection against potential winds and keeps you visible to boat traffic.
Respect the Environment: Lake Tahoe is a pristine natural treasure. Ensure you follow Leave No Trace principles, avoid areas with nesting birds, and always carry out any trash or belongings.
Worry Less, Paddle More
Embracing the serene waters of Lake Tahoe through stand-up paddleboarding is a journey every beginner is bound to cherish. As you paddle amidst the majestic views, remember to respect the environment, prioritize safety, and most importantly, relish every moment. Here's to many tranquil adventures on Lake Tahoe's shimmering expanse. Happy paddling!