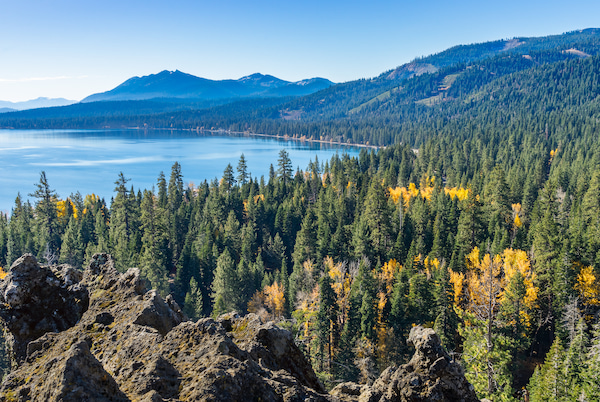 Mesmerizing Hues: Why Lake Tahoe in Fall Should Top Your Bucket List!
If Lake Tahoe in the fall is not on your itinerary this October, you may be missing out! The largest alpine lake in North America lies in the heart of the Sierra Nevada, surrounded by majestic peaks and nestled in nature's embrace. While its beauty remains unparalleled year-round, Fall in Lake Tahoe brings magic unlike any other season. As the gold and amber hues paint the landscape, this jewel of the Sierra offers experiences that are both unique and mesmerizing.
Every year, as September winds usher in cooler days, Lake Tahoe begins its most breathtaking transformation. The region, predominantly adorned by aspens, willows, and cottonwoods, reveals an artistry that few places can rival. Locations such as Logan Shoals and Skunk Harbor, already popular for their vistas, are now draped in vibrant shades of gold, red and orange. These shades, juxtaposed against the deep blue of the lake, make for sights that remain etched in memories for a lifetime.
Lake Tahoe Fall Weather
Lake Tahoe in Fall is a delicate balance between the lingering warmth of summer and the crisp promise of winter. Days spent in the gentle embrace of mid-60 temperatures are complemented by chilly evenings, ideal for cozying up beside a fireplace. However, the mountainous charm of the region also brings its unpredictability. A sunny afternoon can quickly turn into a misty evening, so visitors are often advised to pack layers and stay prepared.
Top Lake Tahoe Fall Activities
There's never a shortage of things to do in Lake Tahoe, especially during fall. Here's a curated list for the perfect autumnal experience:
Concerts Galore
Fall in Lake Tahoe brings artists from all over the world to this magical destination. October is traditionally the most popular month for performances. The 2023 lineup features artists like the Grammy winner Billy Strings for October 8. He will be performing at the Tahoe Blue Event Centre. Other noteworthy musical celebrations include Get the Led Out – celebrating "The Mighty Zep" at Harrah's Lake Tahoe on October 3, and Rumors of Fleetwood Mac, celebrating the best of Fleetwood Mac on October 7.
Stargazing in Lake Tahoe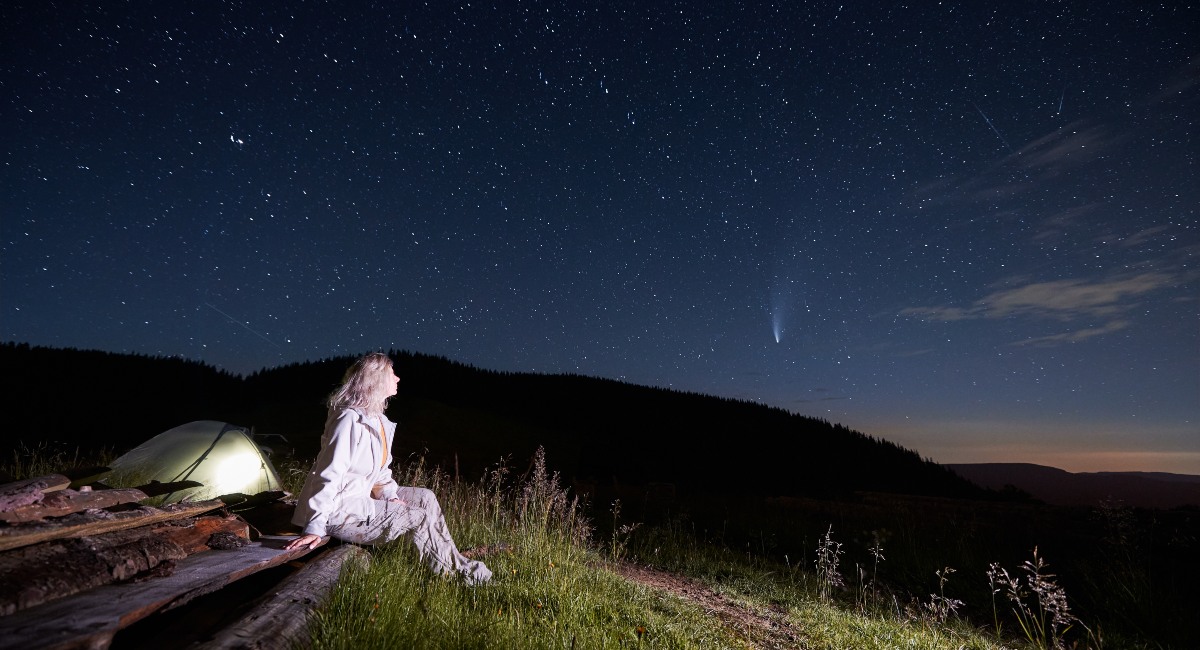 Lake Tahoe in the Fall is the perfect location for stargazing enthusiasts. It boasts up to 300 clear nights every year. The onset of fall removes moisture from the air, and the dry air coupled with clearer skies make for a favorable condition to see the shining stars.
There are many spots for stargazing in Lake Tahoe, including beach, park and mountain top viewing sites. There are a lot of factors that come into play when you are looking for a great location to view stars – from the ease of access to the amount of light pollution in the area.
Here are some of our favorite stargazing sites with exact latitude/longitude coordinates:
Baldwin Beach
Coordinates and Location: 39.922778n 120.068058w | Highway 89, four miles north of the South Lake Tahoe "Y"
Why Baldwin Beach?
Little to no light pollution – so, those stars really do shine brighter.
Panoramic views towards the north, east, and west over the vast expanse of Lake Tahoe.
Plus, it's more than just a stargazing spot. Think historic buildings, lush gardens, and amenities like restrooms, a picnic area, and barbecue grills. Not to mention the picturesque beach and pier that make for a serene backdrop.
Keep in Mind:
It's seasonal. Baldwin Beach welcomes visitors only from mid-May to October.
The closing hours can be a tad unpredictable, so always check before you plan a late-night starry escapade.
There's a small admission fee. But trust us, the views are totally worth it.
Nevada Beach
Coordinates and Location: 38.981944n 119.955000w | U.S. Highway 50, Round Hill
Why Nevada Beach?
An expansive beach meets the vast open sky, making it a dreamy spot for stargazers.
Minimal light pollution means you're in for a celestial treat.
If sunsets are your thing, this beach boasts the best views of the sun, kissing the Lake goodbye.
Getting here's a breeze with easy access, ample parking, and amenities galore! We're talking restrooms, a picnic area, barbecue grills, and even camping for those who can't get enough of the great outdoors.
Keep in Mind:
The afternoons can play tricks with a sudden gust. It's known to get windy, so hold on to those hats!
The beach's sand is super fine. Great for sandcastles, but not so much for equipment. Bring a blanket to shield from those tiny grains if you're setting up a telescope.
There are parking and camping fees.
Red Lake Reservoir
Coordinates and Location: 39.698611n 119.970833w
Highway 88, 7.4 miles west of the junction of Highway 89 (Luther Pass Road) in Pope Valley; take Red Vista Road one-quarter mile to the earthen dam at Red Lake.
Why Red Lake Reservoir?
Pitch-dark skies for that crystal clear stargazing experience.
Fantastic observation conditions, especially during the summer months.
Keep in Mind:
You might find limited parking spots.
Bring some bug spray!
Scenic Drives in Lake Tahoe
Consider setting off on a scenic drive along Highway 395 for a day. You can travel from South Lake Tahoe towards the town of Bishop. It's roughly a 3-hour journey. With an entire day in hand, you can pause occasionally to soak in the fall vibes and landscapes.
As you cruise southwards, the hues by the Walker River will catch your eye, and the views from Conway Summit are simply spellbinding. A bit more to the south, take advantage of the captivating Mono Lake if it's your first time around. Its limestone tufa towers are a sight to behold.
Treat yourself to the picturesque June Lake Loop detour and a quick visit to Convict Lake, just a tad south of Mammoth Lakes town.
Finally, stop by Bishop and head on Highway 168 West to explore a trio of enchanting lakes: North Lake, South Lake, and the charming Lake Sabrina.
Lake Tahoe Cruises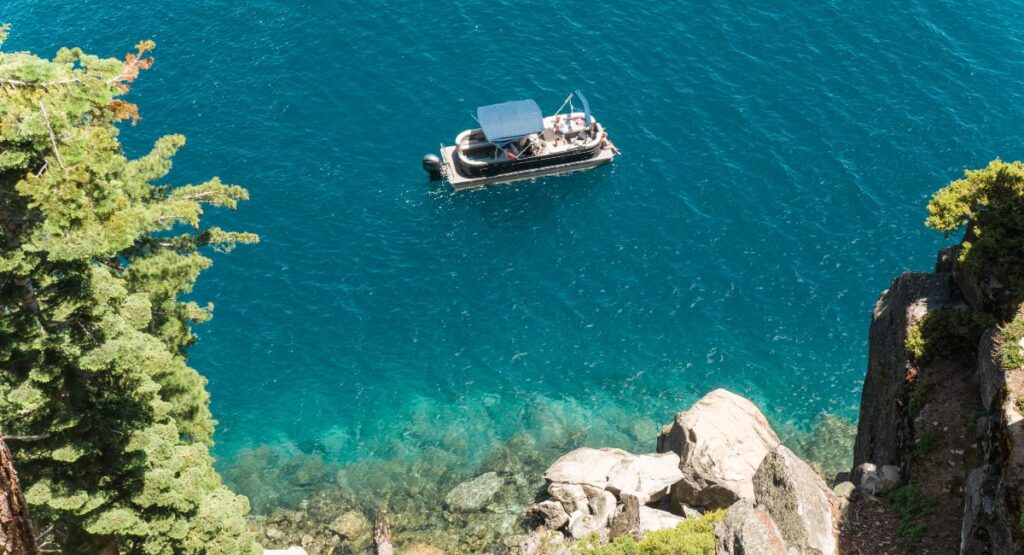 The M.S. Dixie II offers a unique perspective of the vast Big Blue. What better way to marvel at iconic sights such as Emerald Bay, Fannette Island, and Vikingsholm Castle than from the vantage point of the lake?
This renowned paddlewheeler, accommodating up to 500 guests, is the grandest cruise ship in South Lake Tahoe and has undoubtedly won local hearts. Every journey with the M.S. Dixie II sets sail from the Zephyr Cove Resort & Marina. She's ready for voyage whether it's a sunlit day cruise, an evening dinner voyage, or a bespoke private charter.
Thinking of exploring other cruise options or fancy captaining your own boat? South Lake Tahoe brims with dependable choices to set you sailing.
Fall Hikes Around Lake Tahoe
Autumn at Lake Tahoe is a hiker's delight with the crisp air and changing leaves enhancing every trail.
Sand Harbor State Park Boardwalk Trail
On the Nevada side, this 0.5-mile nature loop at Sand Harbor is a treat, suitable for all ages. Its boardwalk by the shore offers views of clear waters, large boulders, and vibrant vegetation. Sunset here is a must-see!
Eagle Lake
Starting at Emerald Bay State Park, this moderate 2-mile trail leads you past the stunning Eagle Falls to the serene Eagle Lake. Fewer crowds in the fall, but starting early is always a good idea. Remember the Desolation Wilderness permit if you're heading to the lake.
Spooner Lake
Spooner Lake is top-notch for autumn colors, with its 2.5-mile loop sprinkled with aspen and willows. Pair a visit here with Sand Harbor to save on parking.
Emerald Point and Vikingsholm
Starting at Vikingsholm Castle, the trail along the Rubicon offers breathtaking views of Emerald Bay. While the journey to Emerald Point is 2.5 miles, the return ascent can be challenging. Touring Vikingsholm? Visit early in the fall as it closes after September.
Sagehen Creek Trail
Northeast of Lake Tahoe, this 5-mile round-trip trail showcases vibrant fall colors and diverse wildlife. Access is off Highway 89 North. Look for the unmarked parking lot after the Sagehen Creek bridge.
Lake Tahoe Halloween Celebrations
Every October, Halloween celebrations in Lake Tahoe come to life with spooky-themed cruises, lively bar crawls, haunted tours and many family-friendly events! Some events to keep an eye out for this year are the Halloween celebrations at Heavenly Village, Tahoe official bar crawl and the Witch Costume Paddle.
Fall in Love with Lake Tahoe this Fall
Fall in Lake Tahoe transitions from bustling summer crowds to a quieter, more intimate atmosphere. It's a time when the lake and its surroundings can be savored in relative solitude. Local cafes and eateries, free from long lines, offer the chance for leisurely meals accompanied by stunning views. Check out our Lake Tahoe vacation rentals, and begin planning your ideal Fall getaway to this mountain paradise today.