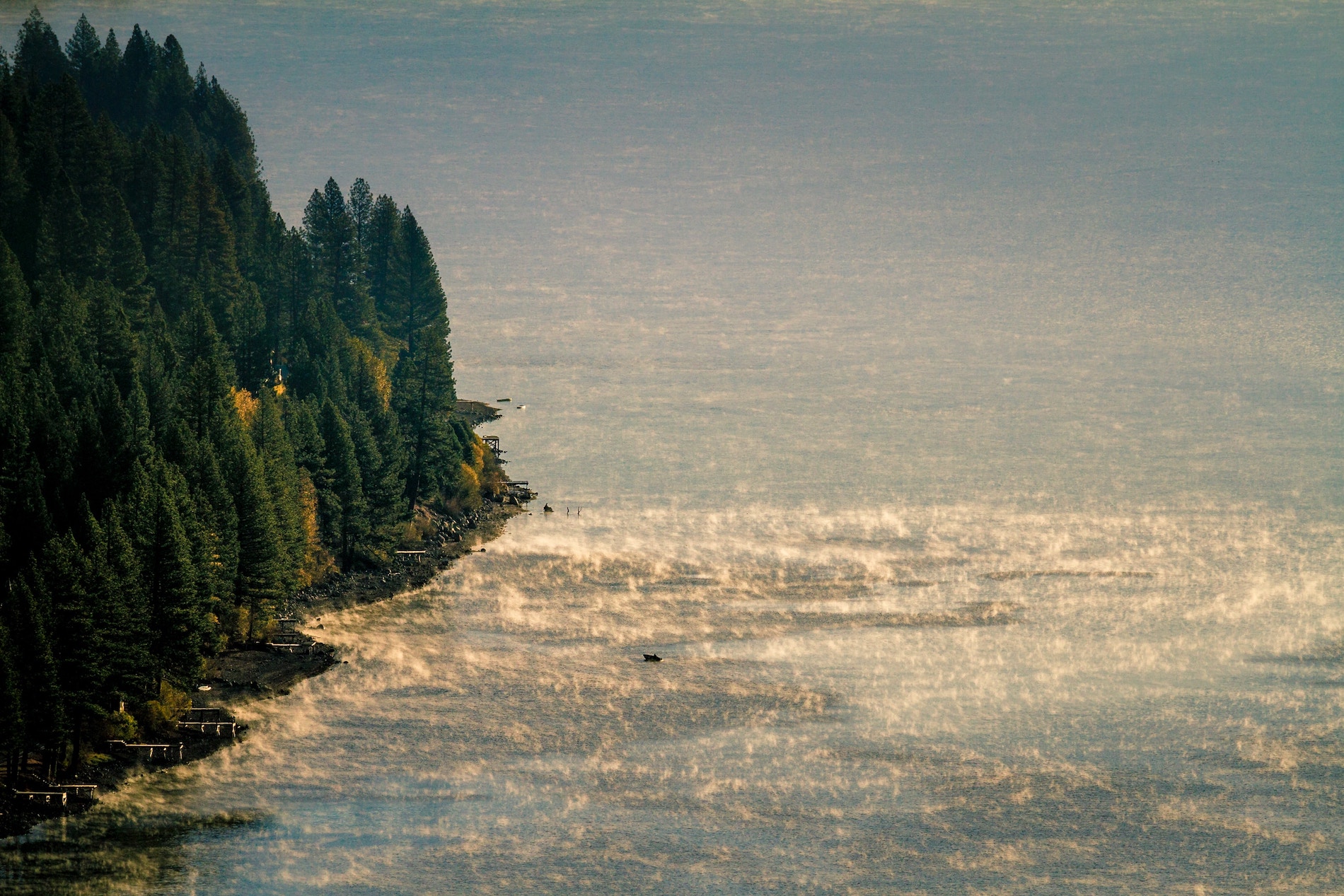 The Traveller's Guide to the best things to do in Donner Lake
Nestled in the Sierra Nevada mountains of northern California, Donner Lake is a picturesque mountain lake that offers plenty of outdoor activities for tourists and locals alike. The lake is situated in Donner Memorial State Park at an elevation of about 6,000 feet.
Donner Lake is a focal point for year-round fun and is located approximately 20 miles away from Lake Tahoe, and sits next door to the town of Truckee.
Photo by Ronan Furuta
How to Reach Donner Lake?
Donner Lake is approximately 30 miles northeast of Sacramento, California. To get there, you will take the I-80 east out of Sacramento towards Reno/Lake Tahoe. Take exit #142 off of I-80 East onto CA Hwy 50 North. Continue driving until you reach Donner Summit. Turn left onto Donner Pass Road. Drive up the hill and turn right into Donner Lake State Park. Easy.
Enjoying the summer months at Donner Lake
During the summer months, Donner Lake in California typically experiences warm to hot weather and clear skies. The lake is a popular destination for swimming, boating, fishing, and hiking. Water temperature is usually between 60-70°F. The lake level also tend to be higher in summer as a result of snow melt, which allows more shoreline access and boat launching. There are also comfortable vacation rentals and cabins, campgrounds and RV parks in the area for those who wish to stay overnight. The area can be busy during peak summer months, so it may be a good idea to plan ahead and make reservations if you plan to stay overnight or boat on the lake.
Experiencing the winter months at Donner Lake
Over the winter months, Donner Lake experiences cold temperatures and snowfall. The lake may freeze over, making it inaccessible for boating and water activities. The surrounding area, including Donner Summit, also receives significant snowfall, making it popular for winter sports such as skiing, snowboarding, and snowshoeing. Many of the hiking trails and campgrounds around the lake will be closed or inaccessible due to snow. However, the area still offers opportunities for snowmobiling, ice fishing, and cross-country skiing. Visitors should come prepared for cold and snowy conditions, and should always check weather and road conditions before heading out.
Things to Do at Donner Lake
Photo by Jeremy Stewart
Whether you're looking for some adventure or just want to relax and take in the views, Donner Lake has something for everyone. Here's our local's guide to the best things to do at Donner Lake.
There are plenty of things to do in Donner Lake. Some of the timeless classics include:
Fishing in Donner Lake
Donner lake is a freshwater lake and has planted trout and kokanee salmon among other smaller fish. The trout in Donner lake can get really big and are popular among local fishermen. You can also opt to fish in the
Boating
While the Donner Memorial Park itself does not have a boat launching ramp, the Truckee Donner Recreation and Parks District operates a public boat launch on the northwest corner of Donner Lake for a fee. The lake also has some boat rentals as well as power boats and people can also bring their canoes and kayaks.
Swimming in Donner Lake
There are two public beaches along the shoreline of Donner Lake. One beach is near the entrance to Donner Lake State Park while the other is near the campground. Both offer restrooms, showers, picnic tables, playground equipment, and lifeguards during the summer months.
Guests at Tahoe Donner homes are privileged with exclusive access to the Beach Club Marina, a tranquil oasis reserved only for them. With Tahoe Donner passes and nominal fees, residents can indulge in an array of water activities, as this pristine beach remains off-limits to the general public in Truckee. Adventure-seekers can rejoice, as the Beach Club Marina offers a variety of rentals, including paddleboard rentals and more.
Camping
Donner Lake is popular for its camping facilities. There are three campgrounds available at the lake itself while the Donner Memorial State Park has 154 sites with picnic tables and restrooms. Each campsite includes electricity, hot showers, toilets, fire rings, and drinking water.
The use of wood and charcoal fires is strictly prohibited in all areas of the park but propane tanks are allowed. You can find more detailed camping information here.
Water Sports
Each summer, Donner Lake sees an influx of tourists and locals who indulge in fun water sports activities. The lake is a popular spot for paddle sports. You can rent out 12 foot paddleboards, or an assortment of single and double kayaks, canoes, hydrobikes and even pedal boats if you just want to lounge around.
For motor boat enthusiasts, Donner Lake also has quite a few options to check out.
Attractions near Donner Lake
There is no shortage of attractions near Donner Lake. The legendary alpine park surrounding the lake has some fantastic attractions and activities and some of them include:
Donner Memorial State Park Visitor Center
Learn about the history of the region and the individuals who settled here, such as the Donner Party and local Native Americans. You can also learn about transcontinental railroad construction in the region. The exhibits are interesting and visitors can expect to spend around an hour here. In the visitor center, you may buy postcards, posters, maps, and books about the region's natural and human history.
Pioneer Monument:
The Pioneer Monument pays homage to the pioneers who crossed the Sierra on their way to the west. It stands where the Schallenberger, and later the Breen cabin originally stood. The monument dates back to over 100 years and is a 22-foot pedestal-topped California Historical Landmark that was finished on June 6th, 1918, and looks west toward Donner Pass.
Hiking Trails:
Tahoe Donner boasts an impressive network of 60 miles of hiking and snow trails, while the nearby Memorial Park adds an additional 8 miles of scenic paths to explore. These trails seamlessly connect to the historic Emigrant Trail, which in turn links to the extensive U.S. Forest Service trails and the iconic Pacific Crest Trail.
Additionally, Shirley Canyon offers a breathtaking hiking experience from spring through fall, leading up to the majestic Palisades peak. For those fortunate enough to find the tram in operation, a complimentary ride down awaits at the end of the journey. However, it is important to note that this hike presents a moderate level of difficulty and may not be suitable for young children or those seeking a more leisurely experience. Nonetheless, for thrill-seekers and adventure enthusiasts, this invigorating trek promises a rewarding challenge.
Visit the Historic Downtown of Truckee:
If a visit to the serene beauty of Sierra Nevada and the Lake Tahoe region is on your list, make sure to pay the historic town of Truckee a visit! Located just 12 miles from the north shore of Lake Tahoe, Truckee offers fantastic access to all nearby attractions, including Donner Lake. You can make it as your base to enjoy activities like world class hiking, mountain biking, climbing, and skiing in the region.
The town boasts plenty of hospitality options to enjoy. You can go on historical walks through the town and explore the natural beauty of nearby forests, catch live music in the downtown area on the weekends, or pamper your taste buds with the exciting food scene. There's something for everyone!
Visit Lake Tahoe:
Last but not the least, a visit to this region is incomplete without a visit to one of Northern California's most treasured gems. Lake Tahoe is an year-round destination and offers plenty of activities that depend on the season you decide to visit the grand lake. There's no bad time to visit Lake Tahoe! It is the perfect family friendly vacation spot.
Take a hike to Emerald Bay State Park to celebrate summer in the Sierras, or splash around at Pope Beach. Heavenly Village and Ski Resort is the perfect place to discover why Tahoe winters are renowned for skiing and holiday pleasure. Visit Lake Tahoe in the spring to hit the slopes in sunglasses and a t-shirt to avoid busy season crowds, or come in the fall when the mountains are painted in autumn colors and hiking is at its best.
Lodging Near Donner Lake
Due to its popularity, the region around Donner Lake always runs a good chance of running out of lodging options! The best way to experience Donner Lake, Lake Tahoe and the surrounding areas to their fullest is by finding high quality Donner Lake vacation rentals and cabins. You can choose from a variety of higher-end vacation homes, from South Tahoe Lake to Truckee, and nearby areas. 
Picture yourself waking up to the mesmerizing sight of the sun rising over Lake Donner, casting a golden glow on the water. Savor your morning coffee on the spacious deck, breathing in the crisp mountain air as you watch eagles soaring gracefully above the lake. In the evenings, toast to the day's adventures as you marvel at the vibrant colors of the sunset reflecting on the water's surface.
This luxurious retreat offers all the comforts of home with a touch of elegance. Boasting 3 spacious bedrooms and 2 modern bathrooms, Milky Way Donner is the perfect haven for up to 6 guests. The open-concept living space, complete with a cozy fireplace and large windows, allows you to enjoy the enchanting lake views from every corner.
Three Commonly Asked Questions About Donner Lake:
How deep is Donner Lake?
The California State Lands Commission estimates the depth of Donner Lake to be around 238 feet or 73 metres.
Do you have to pay to get into Donner Lake?
Donner Lake is situated in Donner State Memorial Park. There are public docks along the entire north side of the lake, next to Donner pass road.
Can you swim in Donner Lake?
Swimming is allowed at all State Park access points and people can swim in Donner Lake. The water can be cold but adventure seekers may enjoy a refreshing dip! On the west end of the lake, China Cove has a roped swimming area, sandy beach, picnic benches, bathroom stalls and other basic facilities.