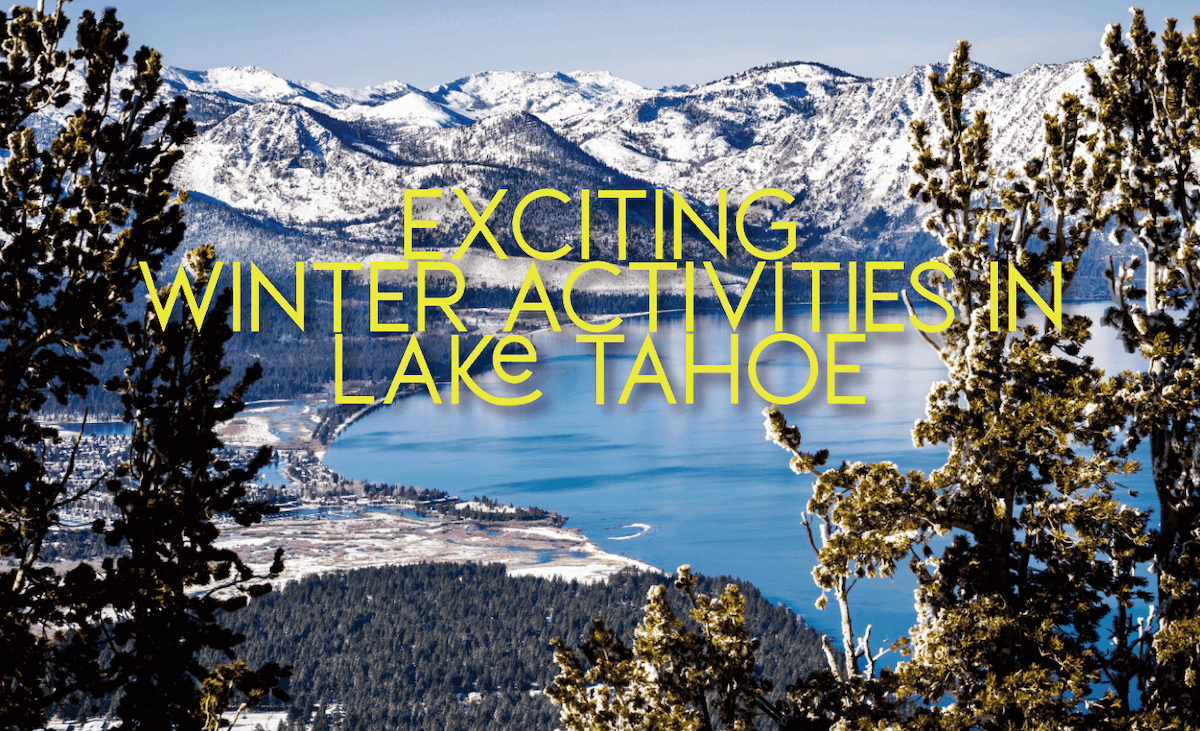 Your Guide to Exciting Winter Activities in Lake Tahoe
For countless good reasons, Lake Tahoe has grown to be one of the most in-demand tourist destinations in the United States. Aside from the spectacular scenery, this mountain town is easily accessible and offers some of the best winter activities in the country.
Whether you're looking to ski or snowboard down world-class slopes, go tubing or sledding with friends, or just take a romantic walk in the snow, this beautiful intersection of California and Nevada has something for everyone. Check out these 9 most exciting winter activities in Lake Tahoe for your next winter vacation!
Go snowboarding or skiing at Lake Tahoe
There are not many places in the world that can match the beauty of Lake Tahoe. Located in the Sierra Nevada mountains, the lake is surrounded by forests of towering pines and majestic peaks. The area receives an average of 18 feet of snow each year, making it a paradise for winter sports enthusiasts. Skiing and snowboarding in Lake Tahoe is fun and exciting, and the beautiful scenery makes it even better.
The area offers a variety of terrain, from gentle slopes to challenging runs, ensuring that there is something for everyone. And with so much to explore, skiers and snowboarders can easily spend days on the mountain without ever getting bored. Skiing and snowboarding at Lake Tahoe is a once-in-a-lifetime experience for both beginners and experts.
Go snowshoeing at Lake Tahoe
Few things are as breathtaking as a winter landscape blanketed in freshly fallen snow. With its towering mountains and pristine forests, Lake Tahoe is a true winter wonderland. And snowshoeing is a great way to explore it all. Whether you're trekking through picturesque forests or scaling towering peaks, snowshoeing gives you access to some of the most stunning scenery in the wilderness. Plus, it's a great workout and an excellent way to get outdoors and enjoy the fresh air.
Here are a few places we recommend:
Chickadee Ridge is a hidden gem with many special features. From the peak of the ridge, you can take in stunning views of Lake Tahoe and its surrounding beauty. Most notably, Chickadee Ridge offers a unique experience where chickadees will fly up to your hands to eat bird food from your palms!
Carson pass offers hikers different, challenging pathways and beautiful scenery. With powdery snow providing plenty of traction and amazing views at every turn, you will love this terrain.
Genoa Peak offers unparalleled views of Lake Tahoe and the surrounding Sierra Nevada Mountains. There's an abundance of powdery snow and winding trails through alpine meadows and forests for you to snowshoe through.
Hop on a snowmobile
Photo by Spencer Davis on Unsplash
One of the most popular winter activities in Lake Tahoe is snowmobiling. With its miles of trails and spectacular scenery, you can speed through the powdery snow and take in the views on your snowmobile. It's an exhilarating way to explore the pristine national forest for all ages and all levels of riders. Join a snowmobiling tour, hop on a ski-doo and hit the trails!
Take a Lake Tahoe sleigh ride
There's something about sleigh riding that just screams wintertime fun. Maybe it's the jingle of the bells, or the crisp mountain air, or the warm blanket tucked around you as you glide across the snow. Whatever the reason, sleigh riding is one of the best ways to enjoy a winter day in Lake Tahoe.
Photo by Tomasz Proszek from Pixabay
The area is home to some of the most beautiful sleigh riding trails in the country, winding through forests of evergreens and offering stunning views of the Sierra Nevada mountains. What could be more romantic than snuggling under a blanket with a loved one while zip-clopping through a winter wonderland?
Ride the gondola at Lake Tahoe's Heavenly Valley
Gliding through the air in an enclosed cabin, gondola rides in Lake Tahoe offer visitors a unique perspective on the snow-covered landscape below. And, for those who are not interested in skiing or snowboarding, riding the gondola is a great way to experience the stunning views of the mountain range without having to strap on a pair of skis. 
Photo by Alex Wolowiecki on Unsplash
Best of all, riding the gondola is a relatively inexpensive activity, making it a great option for families or groups of friends. It's an alternative way to enjoy the views without getting into the snow.
Soar above Lake Tahoe on the Palisades Tahoe Aerial Tram
Experiencing the beauty of Lake Tahoe from the Palisades Tahoe Aerial Tram is an unforgettable experience. As you ascend in the cable car, you can take in breathtaking panoramic views of sparkling blue waters and majestic mountain peaks.
To complete your journey, there's a bar and restaurant at the top so you can enjoy some refreshments after taking in this incredible landscape.
Go Skydiving over Lake Tahoe
There are many winter activities to choose from in Lake Tahoe, but we can say that skydiving is the most exhilarating one. There's nothing quite like the feeling of jumping out of a plane and freefalling through the air.
The rush of adrenaline is unlike anything else, and the views of the snow-capped mountains and sparkling lakes are simply breathtaking. And the best part is, this area has some of the best conditions for skydiving, with clear skies and cool temperatures!
Ride in a hot air balloon in Lake Tahoe
Gliding through the crisp morning sky in a hot air balloon is a thrilling adventure and an unforgettable way to explore Lake Tahoe. Whether you're a thrill-seeker or just looking for an alternative way to take in the stunning landscape, a hot air balloon ride offers one of the most unique ways to experience this beautiful area.
Photo credit: Lake Tahoe Balloons
As you ascend, you'll be treated to occasionally changing hues of blues and greens that paint the lake and its surrounding mountains as far as the eye can see. Enjoy taking amazing aerial photos as you embark on your journey with friends or family, making it a momentous experience everyone will enjoy.
Go snow tubing
Go hurtling down a snow-covered hill on a tube! The wind rushes through your hair, and the icy air stings your cheeks. For a moment, you feel like you could fly. That sense of freedom is what makes tubing such a popular winter activity in Lake Tahoe. You don't need any skills to go snow tubing; even first-timers can pick it up quickly.
Come have a blast on Spooner Summit's free sledding and tubing area, located at the junction of Highways 50 and 28 in South Lake Tahoe! Or, you can venture up the gondola to Heavenly for thrilling rides through its terrain parks. For those seeking convenience, stay at one of Gentian Mountain Retreat, PeakView Tahoe, Wagon Train Retreat, or Cold Creek Retreat – these vacation rentals are the closest homes to Heavenly tubing.
For those heading north to Tahoe Vista, staying at one of the fun vacation rentals like the cozy Tahoe Cabin or the magical Tahoe Treehouse will put you right in the middle of all the snow tubing action! North Tahoe Regional Park offers awesome slopes with plenty of tubes waiting for you to grab.
And if that wasn't enough, then you won't want to miss the Truckee Donner Snowplay! With guest passes from our Tahoe Donner homes, you'll get discounted tickets and make your vacation that much more enjoyable.
Time to wrap up your winter fun in Lake Tahoe
No matter what your age or interests are, you will find something to do in this beautiful mountain town during the winter. Since there are many exciting winter activities in Lake Tahoe, it might be tough to decide what to do first! So, remember to schedule enough time to spend there to enjoy what it has to offer. Start planning your trip today by booking your vacation rentals in Lake Tahoe and getting excited for some unforgettable winter fun!
3 commonly asked questions about winter activities in Lake Tahoe
What to do in Lake Tahoe in the winter?
While many people think of Lake Tahoe as a summer destination, the truth is that the area is just as beautiful in winter. From snowshoeing and cross-country skiing to sledding and ice skating, there are plenty of ways to enjoy the great outdoors. And when it's time to warm up, there are plenty of cozy cafes and restaurants to choose from.
Where to stay in Lake Tahoe in the winter?
If you're looking for a winter wonderland experience with more activity, then staying in one of the large ski resort villages in South Tahoe would be a great option. If you're looking for something a little more mellow, then staying on the North Shore might be a better option.
Where to stay in Lake Tahoe for skiing?
Staying in North Lake Tahoe is a great choice for skiers and snowboarders because many ski resorts are only a 30-minute drive away.