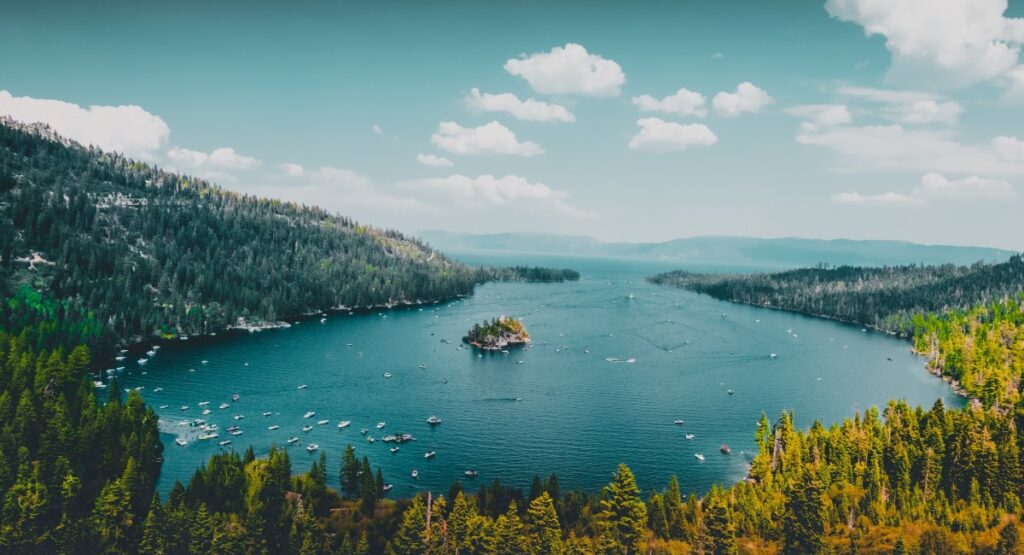 Experience The Natural Beauty Of Lake Tahoe This Spring!
"Surely the fairest picture the whole world affords" is how Mark Twain described the beauty of Lake Tahoe in 1871.
Tucked away amidst the majestic Sierra Nevada Mountains lies Lake Tahoe, a breathtaking wonder of nature just begging to be discovered. It's a haven for nature lovers with its crystal clear waters, verdant forests and towering peaks. However, as stunning as it is year-round, there's something extra special about cozying up in one of the charming vacation rentals around Lake Tahoe in Spring time.
The Beauty and Magic of Lake Tahoe
For those who have never been to Lake Tahoe, it's easy to picture a sleepy mountain town with a single, serene lake. Lake Tahoe is a visual feast, packed with adventure and awe-inspiring beauty. Winter brings skiers and snowboarders, while summer sees hikers, mountain and road bikers, climbers and kayakers. It's a year-round oasis for nature enthusiasts.
But of course, let's not forget the magic of spring. It's the best kept secret of Lake Tahoe. Mild weather, fewer crowds, and budget-friendly rates make it the ideal time to escape the monotony of daily life and bask in the beauty of this natural wonder.
Reasons to Visit Lake Tahoe in the Spring
Why visit Lake Tahoe in the spring? Simply put, spring is the cherry on top of the Tahoe sundae.
Here are a few reasons that make it the ultimate escape from city life:
Perfect Weather: Spring in Lake Tahoe is a real dream come true for outdoor enthusiasts. Spring in Lake Tahoe is the stuff of legends, folks! It's a nature-lover's paradise where the weather is just as delightful as the scenic views. Picture this; temperatures hovering in the happy-zone of mid-60s to low-70s, crystal-clear skies that'll take your breath away. Whether you're hiking, kayaking, skiing or simply taking in the beauty of the place, Spring in Lake Tahoe is where you want to be for some unforgettable memories.
Bargain Rates: Spring into savings at Lake Tahoe! As the off-season rolls in, you'll get to bask in the breathtaking beauty, indulge in scrumptious restaurants, and embark on unbeatable adventures all at unbeatable prices. Say goodbye to high-season prices and hello to extra cash to put towards unforgettable memories and a lot more fun.
Peaceful Experience: If you're looking to escape the hustle and bustle of city life, Lake Tahoe in the spring is the perfect destination. With fewer visitors, you'll be able to enjoy the natural beauty of the lake without the crowds. Take your time to relax and breathe in the fresh mountain air while taking in the breathtaking views.
Exploring the Natural Beauty of Lake Tahoe in the Spring
Spring is a prime time for reveling in Lake Tahoe's breathtaking beauty. From scenic hikes to water sports, and even skiing, it's a playground for everyone.
Hiking and Wildlife: Immerse yourself into the great outdoors and hit the trails of the Sierra Nevada Mountains. Whether you're a seasoned hiker or a newbie, there's a perfect path waiting for you, although some may require a cool pair of snowshoes, especially if there was a lot of snow the past winter. And with the comfortable spring weather and winter ending, you may spot local wildlife like deer, bears, and coyotes roaming about.
Kayaking: Take a dip into adventure and kayak the stunning waters of Lake Tahoe. With the mild spring weather, you'll bask in the awe-inspiring views of the lake and mountains without feeling a chill.
Fishing: Spring is also a fisherman's paradise in Lake Tahoe. With the warmer weather, the fish are more active and easier to reel in. It would make the perfect day out for any seasoned fisherman, or dads who wanted to teach their kids and make memories.
Boating: Sail, powerboat, or paddleboard your way around Lake Tahoe. Whatever your boating preference, it's the perfect place for a nautical adventure. Experience Lake Tahoe's famous beauty from right on the water.
Skiing: Skiers and snowboarders, rejoice! Spring is the time to enjoy the snow before it;s gone. With snowsports still ongoing until the end of April, you and the family can shred the slopes, without the crowds in your way.
Mountain Biking: Get your adrenaline pumping and explore the mountains on two wheels. Whether you're a beginner or a pro, there's a mountain biking trail for everyone. Fat tire bikes work great if the trails still have snow on them.
Spring Festivals and Events in Lake Tahoe
Yes Lake Tahoe is known for its breathtaking natural beauty, but it's also recognised for its vibrant and exciting events, and spring is no exception. Whether you're interested in music, food, or outdoor activities, there's something for everyone.
Winter Wondergrass Festival
Are you ready for some toe-tapping fun? This April 1st–3rd, make your way to Palisades for the highly anticipated return of WinterWonderGrass! This music festival is the ultimate destination for bluegrass lovers, featuring top-notch artists, ice-cold beer, and local vendors all nestled at the base of the slopes. So, grab your dancing shoes and get ready for a festival like no other.
Easter and the Golden Egg Hunt
Bring your kids to the exciting Palisades Tahoe Great Egg Hunt this Easter! Get out of the house and into the great outdoors with your little ones, as they scan the slopes in search of eggs. Not just any eggs, but the elusive Golden Egg, which is hiding somewhere on the mountain. This family-friendly event is the perfect way to spend quality time together, get some fresh air, and burn off some energy before a big Easter feast. So, mark your calendars and come join the fun!
Heavenly Village Brewfest
Attention beer lovers and music aficionados! Don't miss out on the 5th annual Tahoe Brewfest at the shops of Heavenly Village. Immerse yourself in the ultimate beer-tasting experience with an array of local and regional brews, spirits, kombucha, and more.
For the reasonably priced fee of a $30 donation, you'll receive a wristband and a commemorative glass to keep as a memory of this fantastic event. In addition to being able to sample some of the best beers in the region, there will be live music and a variety of games to keep you entertained. There's nothing better than a cold, frosty beer after a day on the slopes!
Note: This event is only open to those 21 and over.
Where to stay in Lake Tahoe
Source – Vacation Rental Assistance – Alder Retreat
Whether you're looking for a luxurious Tahoe vacation home or a more budget-friendly option, Lake Tahoe has something for everyone. Here are a few suggestions for your next visit:
The Knotty Cabin:
With a cozy fireplace, natural pine ceilings, and updated kitchens and bathrooms, enjoy comfort in mountain style at the Knotty Cabin. The loft features a TV, foosball, and bean bags for the kids. With a pull-out bedroom and sleeping for up to six, this home offers the perfect Tahoe experience for family and friends. With its close proximity to a popular beach and ski resort, enjoy all the outdoor activities Tahoe has to offer. The cabin includes a large deck, a propane BBQ, an indoor fireplace, and more!
Alder Retreat:
Relax in our Tahoe Donner cabin, surrounded by pines and mountains, and recharge! With three well-furnished rooms and a host of amenities, our cabin is perfect for families and friends. Enjoy the open living area with vaulted ceilings, large windows, and a wood-burning stove. Hike or bike on 60+ miles of trails outside the door and access the Adventure Center. Our cabin is pet-friendly, and has two decks, air conditioning, bunk beds, a 2-car garage, and much more. Stay connected with smart TVs, streaming options, and the Nintendo Wii. Enjoy a soak in the master's jetted tub. Use the guest passes for community amenities like pools, a golf course, and a fitness center.
Tahoe Treehouse:
Escape to The Treehouse, a stunningly remodeled Tahoe Vista retreat with pine-filled air, filtered lake views, and all the comforts of home. Savor a hot tub under the stars, relax by the gas fireplace, or play games with the family. With a fully equipped kitchen, two king master suites, and a bunk room, this home sleeps up to 10 adults and a couple of children. You're in a great location, just 6 miles from Northstar California Resort and within walking distance of Tahoe National Forest. Enjoy the comfort, beauty, and adventure of Lake Tahoe in this quirky, yet luxurious, treehouse retreat.
Plan Your Spring Getaway Today!
Visiting Lake Tahoe in the spring is a must-do for nature lovers, adventure seekers, and festival-goers alike. With its perfect weather, affordable rates, and peaceful surroundings, Lake Tahoe offers a unique and memorable experience that you'll never forget. So pack your bags, gather your friends and family, and head out to Lake Tahoe this spring. Trust us, you'll be glad you did. Who knows? You might even discover a new hobby or two while you're there! With its endless outdoor activities, vibrant festivals, and stunning natural beauty, Lake Tahoe is the perfect escape from the hustle and bustle of everyday life.
Commonly asked questions about spending spring in Lake Tahoe
When is the best time to visit Lake Tahoe in the spring?
The best time to visit Lake Tahoe in the spring is typically from late April to early June when the weather is mild and the crowds are smaller.
What are the temperatures like in Lake Tahoe in the spring?
In the spring, daytime temperatures in Lake Tahoe are usually in the mid-60s to low-70s, which is perfect for outdoor activities.
What are the rates like for accommodation, dining, and activities in Lake Tahoe in the spring?
In the spring, rates for accommodation and activities are typically lower due to fewer visitors. Dining typically remains the same.