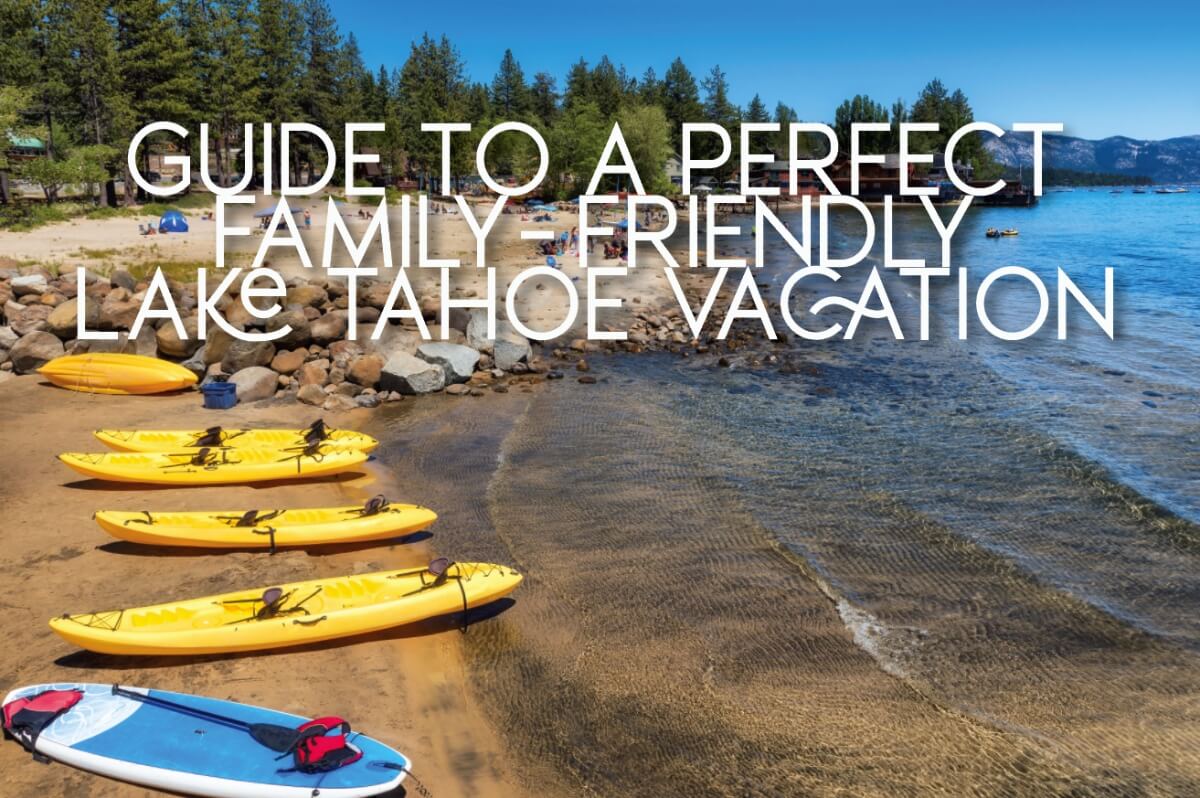 Your Guide to a Perfect Family-Friendly Lake Tahoe Vacation
"As it lay there with the shadows of the mountains brilliantly photographed upon its still surface, I thought it must surely be the fairest picture the whole earth affords."
Lake Tahoe strikes the perfect balance between convenience, amenities, nature, adventure, and non-stop action. With so much going for it, it's no wonder that Lake Tahoe appeals to everyone – especially families! Beyond the glitz of casinos, and black diamond runs, there truly is plenty of kid-friendly attractions and activities to keep everyone entertained.
To help you plan the perfect family-friendly Lake Tahoe vacation, we've put together a locally inspired guide. We're covering everything from an overview of the area, where to stay and what to do, to insider tips on making the most of your trip. So whether you're looking for a relaxing family getaway or an action-packed adventure, read on for everything you need to know about planning this trip!
Where is Lake Tahoe?
Lake Tahoe is located in the Sierra Nevada mountains, straddling the border between California and Nevada. The lake itself is 22 miles long and 12 miles wide, making it the largest alpine lake in North America. If you are driving, Lake Tahoe is approximately 40 miles from Reno, 120 miles from Sacramento, 200 miles from San Francisco, and 450 miles from Las Vegas.
The region around Lake Tahoe is renowned for its beauty, with stunning mountain scenery and plenty of opportunities for outdoor activities. It's often been called "the most beautiful place in the world."
Tips for visiting Lake Tahoe
Make sure you pack warm clothes for the evening because the mountains get cold quickly after the sun goes down. Also, bring layers that are UV-protective and breathable, a hat, and a high SPF sunscreen.
Black bears live in the Tahoe Basin so be sure not to leave any food in sight when your car is parked. Also, use bear-proof containers in your vacation rental homes and campground.
Lake Tahoe is about 6,200 feet above sea level. You should take precautions to avoid altitude sickness in high-altitude areas. That includes starting physical activities slowly, putting on sunscreen, and drinking lots of water. The best way to deal with elevation change may be to sleep at a higher altitude
There can be a lot of congestion near and around Lake Tahoe Basin so traffic there can be really slow sometimes. If you want to avoid that, try going there on weekdays. On summer weekends, you might see a long line of cars waiting to get to the beach before it opens.
Best time to visit
The best time to visit Lake Tahoe depends on what you're looking for. If your family wants to enjoy the outdoors, the summer months are the best. However, if you're a skier, winter is obviously your time to shine and enjoy the area's many ski resorts. If you are looking for a quieter time or want deals on hotels and other attractions, the shoulder seasons of spring and fall are ideal.
Family-Friendly Activities at Lake Tahoe
Families can enjoy many different activities together at Lake Tahoe and everyone will be entertained. Here are some of the top fun things to do:
Take a (scenic) hike
There are many beautiful hiking trails in the area that the whole family can enjoy. Be sure to pack plenty of water and snacks, and don't forget your camera to capture the stunning views. Some of the best trails include Emerald Bay, Mt. Tallac, and the Rubicon Trail. You can pick the trail that is suitable for the age of your kids.
Emerald Bay is a must-see when visiting Lake Tahoe. The views from the top of Eagle Falls are simply breathtaking. Mt. Tallac, although a longer and more advanced hike, is another great option, offering stunning views of the lake and the surrounding mountains.
The Rubicon Trail is one of the most popular hiking trails in Lake Tahoe. It winds its way through the forest along the shoreline, offering hikers beautiful views of the lake and the surrounding scenery.
Enjoy thrills among the treetops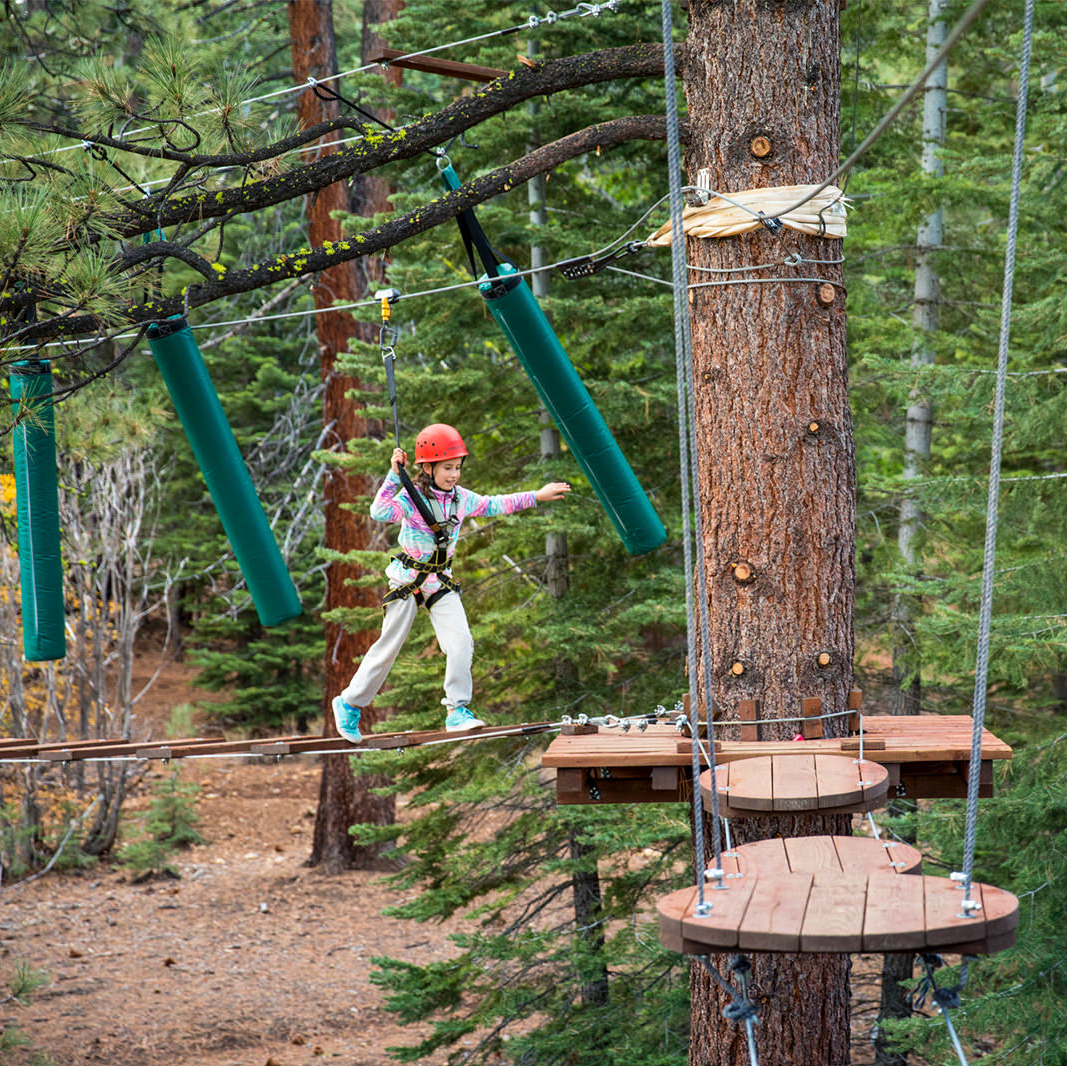 With over 2000 5-star Tripadvisor reviews, Tahoe Treetop Adventure Parks offers 3 convenient locations. Each location boasts ziplines, aerial courses and wobbly wooden bridges to test and delight kids 6 years of age and older.
Whitewater rafting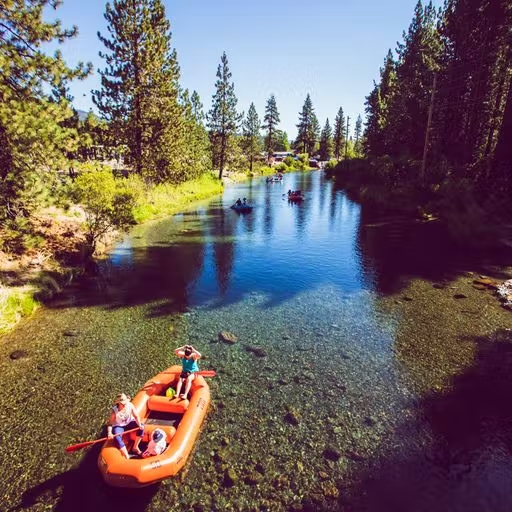 Whitewater rafting is an awesome family-friendly activity in the summer. It's an adrenaline-pumping experience that will leave you and your kids feeling exhilarated. Plus, it's a great way to bond with your family and create lasting memories.
No Prior experience is required and you can choose the whitewater stretches and tours that match your family's level. There are different companies offering whitewater rafting tours in Lake Tahoe, with the biggest tour provider being Truckee River Raft Company. You can also bring your own tube and float the peaceful stretch of the Truckee River, from Tahoe City's Transit Center to the River Ranch Restaurant.
Go for a swim
The clear blue waters of Lake Tahoe are perfect for a refreshing swim. If your kids don't want to get wet, you can also just build a sandman on the beach and soak up some sun. Some of the best kid-friendly beaches are Kings Beach, Common's Beach, Sand Harbor, and Meek's Bay.
Go for a sled/skate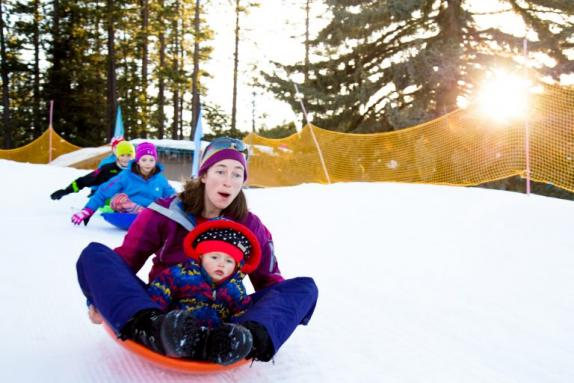 Tahoe City Winter Sports Park is a perfect winter destination for the whole family. The popular park offers downhill sledding, ice skating, snowshoeing, and cross-country skiing!
For South Lake Tahoe, Sawmill Pond is an awesome place for young kids and families to go sledding. It is one of the best places to go sledding in Lake Tahoe. You can enjoy a relaxing ride down some small hills while taking in amazing views.
If your family are ice skaters, then you won't want to miss going to Heavenly Village – the only outdoor ice skating rink in South Lake Tahoe. Go there to enjoy the joyful winter ambiance with music and lights while gliding on the ice!
Rent a powerboat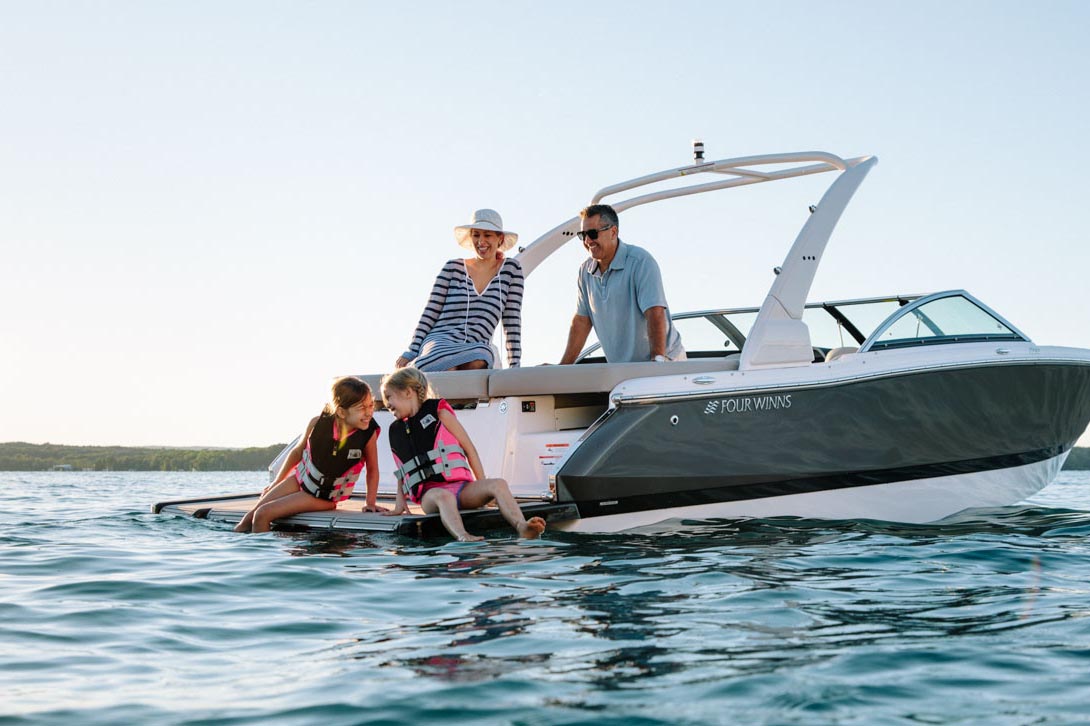 What better way to enjoy the lake than renting a powerboat to glide along the gleaming water? Head to the beautiful coves or just cruise around and take in the scenery. Your kids will have a joyful and amazing ride out there. Just be sure to follow all the safety rules while you're out on the water. You need not look far to find a business you can rent from as there are close to 20 operators around the lake.
Escape Lake Tahoe
If you haven't tried an escape room yet, you are missing out! Lake Tahoe has 2 extremely popular escape rooms. Trapped in Tahoe in South Lake Tahoe, and Puzzle Room Tahoe in nearby Stateline.
Take a scenic drive
The roads around Lake Tahoe offer some of the most beautiful scenery in the country. Take your time and enjoy the views as you wind your way through the mountains. Don't forget to make stops along the way to take memorable family photos.
Go to concerts and events
There are many summer events and concerts to enjoy in Lake Tahoe! From live music to festivals, there's something for everyone in the family to enjoy. Here are just a few of them:
Live at Lakeview is a summer music series and free concerts that take place weekly at South Lake Tahoe's Lakeview Commons. Locals and visitors can enjoy different types of live music and art, and browse through and shop from some of the amazing local vendors. There are also many different food vendors at this event, so you can find something to eat that everyone in your family will enjoy.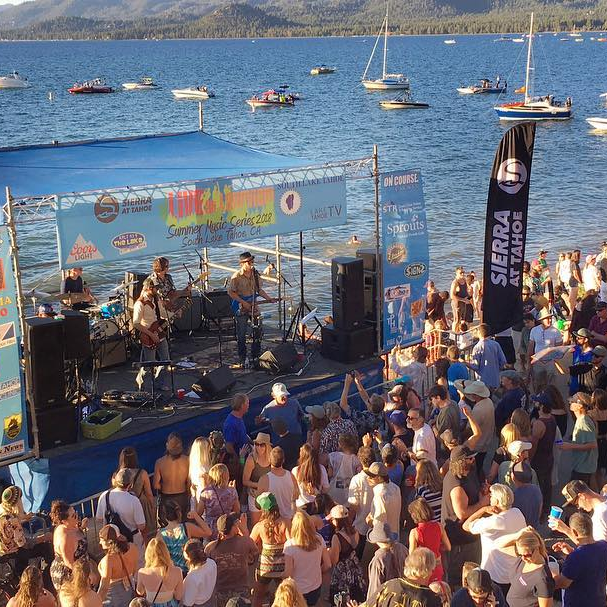 If you are staying on the North Shore of Lake Tahoe in Tahoe City, be sure to check out the 12-week Concerts at Commons Beach series! It is a summer-only event with free live music and on-site local food vendors every Sunday.
The Lake Tahoe Shakespeare Festival is a must-see for any culture lover. This annual event features a variety of performances, from classic Shakespeare plays to more modern works. The festival takes place in an outdoor theater, so you can enjoy the beautiful Tahoe scenery while watching amazing theater performances.
There's no better way to celebrate the magical Truckee mountain town's unique culture than going to Truckee Thursday! Happening every Thursday from mid-June to mid-August, this weekly street fair brings you live music, kid's activities, local food and art vendors, and a farmer's market. It's a great place to spend your Thursday evening there with your family and enjoy a special outdoor dinner. If you happen to be lodging at one of our Truckee cabin rentals, then you'll be conveniently close to all the action.
Fish in a barrel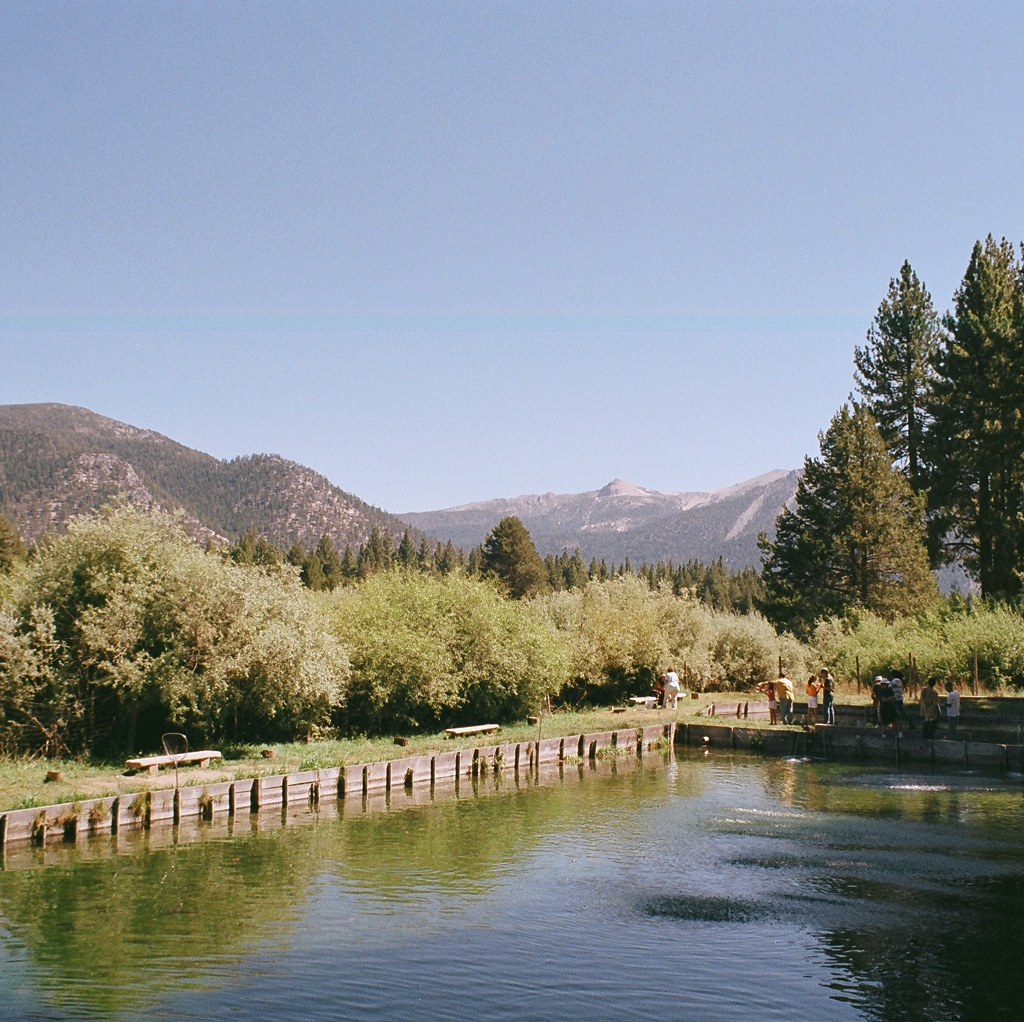 The Tahoe Trout Farm is an institution in the area. It's where many people have learned how to fish. The well stocked, circulating ponds are terrific places to fish. No license is required and all equipment is provided!
Bike along the Truckee
Bike from Tahoe City to Squaw Valley or vice versa and go along the Historic Truckee River Path. This easy ride is fun for the whole family, and bike rentals are available on either end.
Visit USDA Forest Service's Taylor Creek
This is a great place to have a relaxing walk with the whole family and learn something new. The Rainbow Trail starts at the visitor center and goes back to where it started. The trail is flat and has lots of shades. You can find educational plaques along the walk. There are also activities for kids to do at the visitor center. You can also join their tours to learn more about Lake Tahoe, the forest, and animals. As a bonus, you may see bears feeding on the salmon!
Take a scenic chairlift ride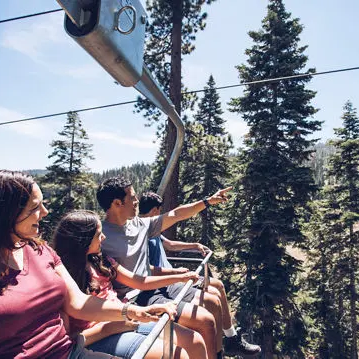 Chairlifts are a great way to enjoy the scenery without having to hike up a mountain. You can find them at most of the ski resorts in the area. Families who enjoy hiking do take the lifts up and then walk down or the other way around.
Visit an alpine lake
There are many alpine lakes in the Lake Tahoe area that are perfect for a day trip. Be sure to pack a picnic lunch and plenty of water for the hike. Some of the most popular lakes include Twin Lakes, Cascade Lake, Eagle Lake (and Eagle Falls), and Marlette Lake.
Where to stay
There are many different types of accommodation available near Lake Tahoe. You can find everything from camping and RV sites to luxury hotels and resorts. There are also many vacation rentals available, including cabins, condos, and single-family homes.
One of the great things about vacation rentals is that they offer more space and privacy than hotels and resorts. This is especially important for families with young children who need a place to play and run around.
Vacation rentals also usually have fully equipped kitchens, so you can save money by cooking your own meals. And if you're traveling with extended family or friends, you can often find rentals that have multiple bedrooms and bathrooms to accommodate everyone and keep the rental cost down.
In a few words,
It's no surprise that Lake Tahoe is one of the most popular family-friendly vacation destinations. There are many activities and attractions to keep the whole family entertained. Whether you're looking to hike, bike, or simply enjoy the views, Lake Tahoe is sure to please. And with so many different types of accommodation available, you're sure to find the perfect place to stay.
Book your Lake Tahoe vacation rental today and enjoy all this place has to offer!
If you need more information on planning your trip, be sure to check out the official Lake Tahoe visitor bureau.
You might wonder about Lake Tahoe Family-Friendly Vacation
How far is Lake Tahoe from Las Vegas?
Lake Tahoe is about 450 miles from Las Vegas. It's a beautiful drive that takes you through the Sierra Nevada mountains. You can also fly into the Reno-Tahoe airport, which is about 45 minutes from Lake Tahoe.
What is the average temperature in Lake Tahoe?
The average daytime temperature in Lake Tahoe in the summer is 79°F and 41°F in the winter. Keep in mind that the temperature will be lower at a higher altitude and it gets cold quickly in the evenings.
Where is the best place to stay in Lake Tahoe?
There are many great places to stay in Lake Tahoe. Some of the popular areas include South Lake Tahoe, North Lake Tahoe, and Incline Village. There are also many great camping and RV sites around Lake Tahoe.