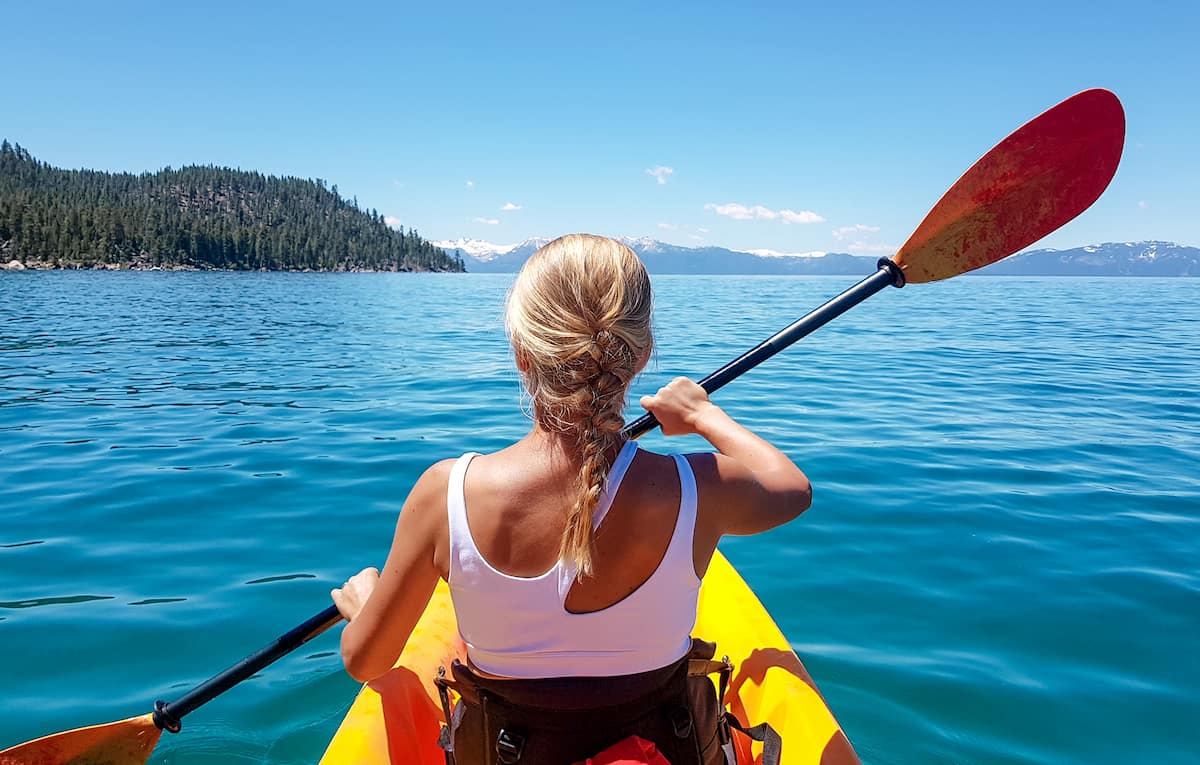 Summer Unleashed: Best Things to Do in Lake Tahoe
As the snow melts away and the vibrant hues of summer emerge, Lake Tahoe, a scenic marvel nestled between California and Nevada, awakens to a season of boundless adventure and serene relaxation. A haven for nature lovers, thrill-seekers and solitude seekers alike, Lake Tahoe in summer is nothing short of a picturesque paradise, where crystalline waters meet azure skies and majestic mountains cradle lush green forests.
Whether you're a first-time visitor or a seasoned Tahoe traveler, summer in this idyllic location offers a plethora of activities that cater to every taste and interest. From thrilling water sports and scenic hikes to alfresco dining and relaxing beach days, summer in Lake Tahoe is a season of sun-soaked charm and endless excitement.
Read on as we guide you through the best things to do in Lake Tahoe during the summer months, presenting a blend of popular attractions and hidden gems that will ensure your Tahoe summer experience is both unique and unforgettable. Also, with so many luxury accommodation options dotted around Lake Tahoe, it's never been easier to plan your summer Tahoe getaway. So, pack your bags, slather on some sunscreen, and get ready to discover the sunlit beauty of Lake Tahoe.
Things To Do Around Lake Tahoe in Summer
From sunrise to sundown, you can find endless fun summer activities around Lake Tahoe. Let Tahoe's summer magic captivate your senses and create a narrative of holiday memories you'll cherish forever. Here are just a few activities to do around both North and South Lake Tahoe that need to be on your summer schedule.
Sunbathe on Sandy Shores
North Lake Tahoe: North Lake Tahoe's beaches are a fantastic place to relax, sunbathe, and swim. Kings Beach State Recreation Area is one of the most popular in the area, offering a large sandy beach perfect for sunbathing, swimming, and picnicking. There are also water sports rentals available for activities like stand-up paddleboarding (SUP) and kayaking.
Sand Harbor Beach, located on the Nevada side of North Lake Tahoe, is known for its stunning clear waters and large boulders. You can go swimming, snorkeling, or enjoy a scenic picnic. If you're looking to escape the crowds and seeking some solitude, Moon Dunes Beach is a smaller, less crowded beach that offers a peaceful setting for sunbathing and swimming. It's also a great place to launch a kayak.
If you're finished with sunbathing and want to do some boating or take out a jetski, Tahoe Vista Recreation Area is the place for you. This beach offers a boat launch, making it a great spot for boating and water sports. Check out nearby watersport rentals and hit the lake for some heart pounding summer fun.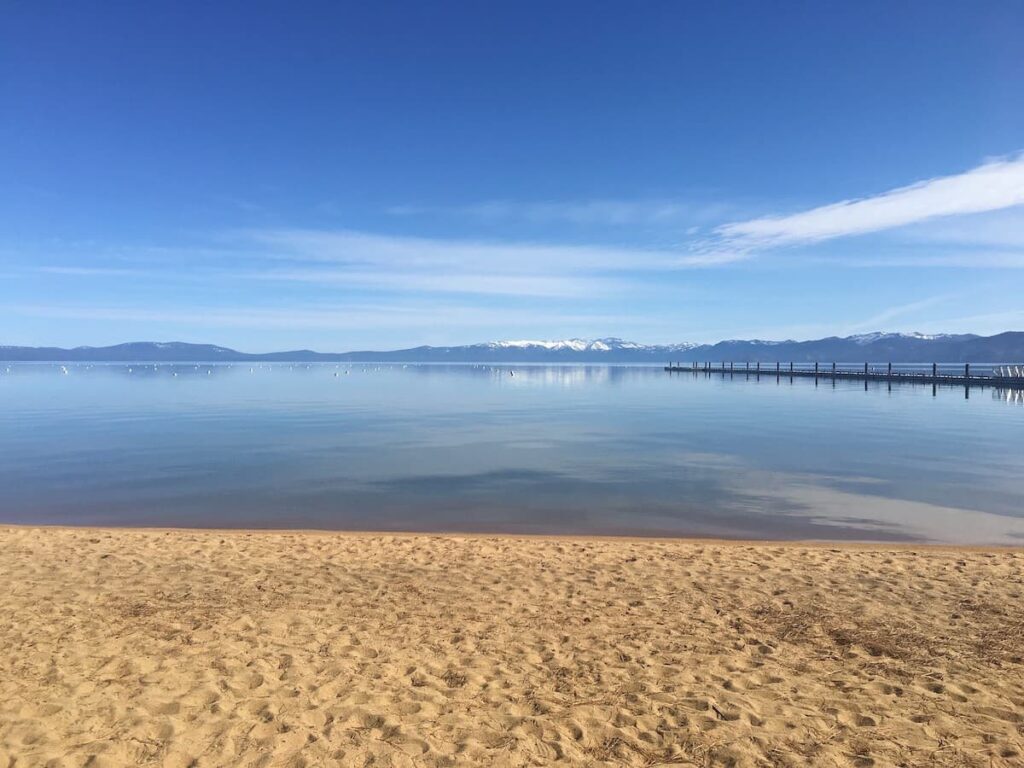 South Lake Tahoe: Just like North Lake, South Lake Tahoe offers beautiful beaches with a plethora of fun activities to enjoy all summer long. Pope Beach is one of the largest beaches in South Lake Tahoe and is perfect for family outings. You can enjoy picnicking, sunbathing and swimming in the clear waters. There are also kayak and paddleboard rentals available.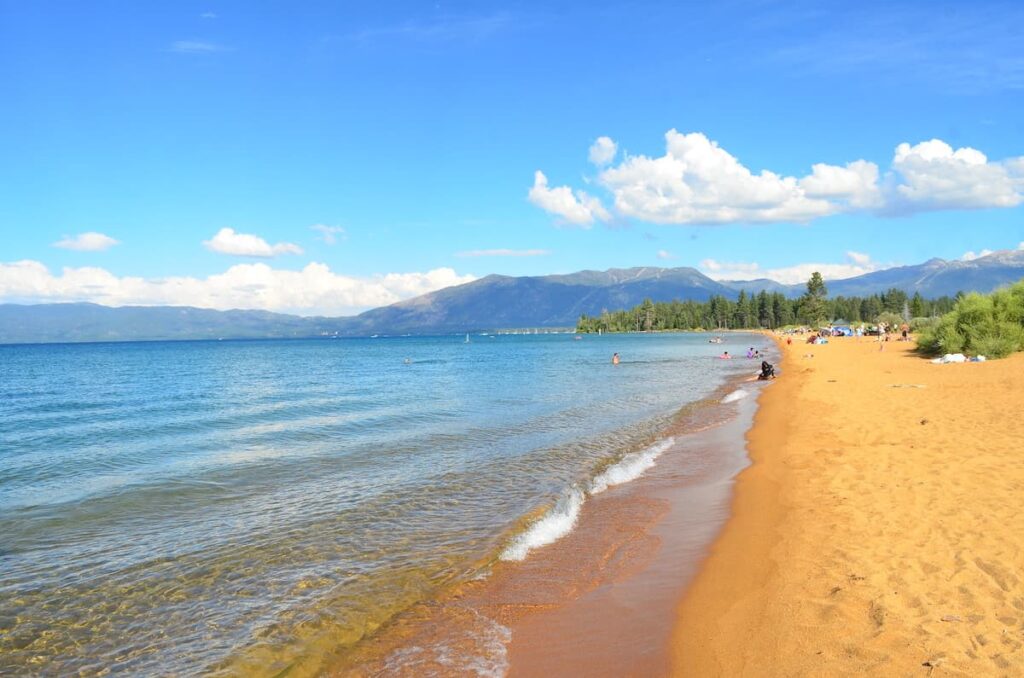 You also have Baldwin Beach, which is an expansive beach that offers beautiful views of the lake and mountains. It's a great spot for swimming, sunbathing and picnicking. The shallow waters make it a good choice for families with small children.
If your furry friend is coming along for some summer fun, Kiva Beach is a great pet-friendly option. Kiva Beach, also known as Tallac Point, has a sandy shoreline that is home to some unique vegetation including willows, lodgepole pine, marsh grass, quaking aspen and Tahoe Yellow Cress plant.
Hike the Trails
There's nothing like being immersed in nature on a scenic hiking trail on a glorious summer's day. Tahoe has a great selection of hiking trails to choose from, all ranging in length and skill level. Here are some of our top picks for you to explore on your summer vacation to Lake Tahoe;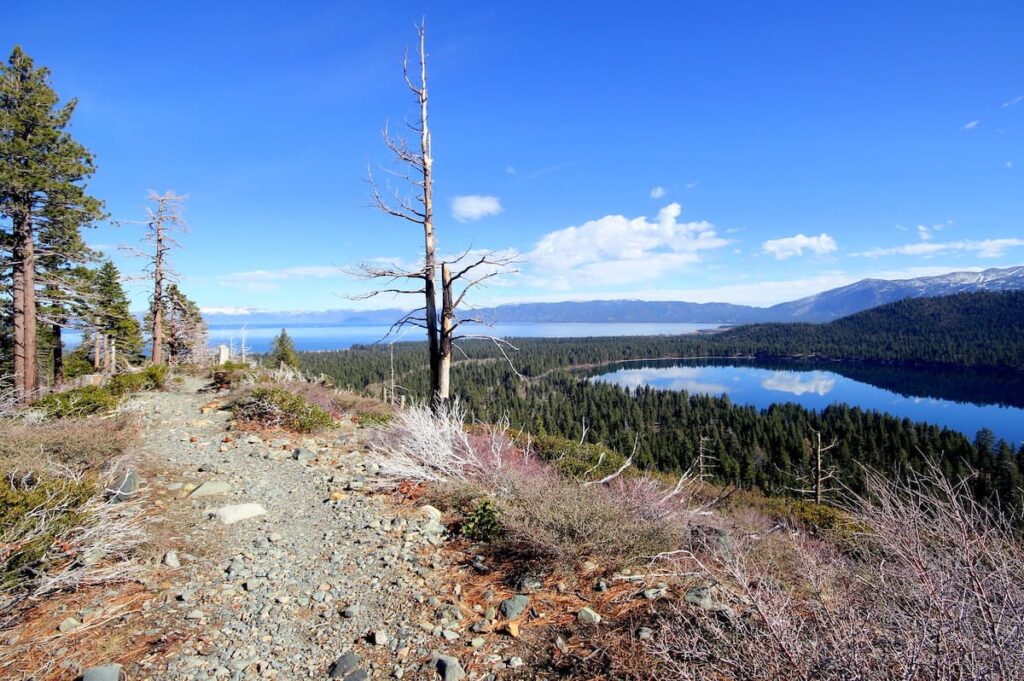 North Lake: The Tahoe Rim Trail is a super popular route in North Lake tahoe. This 165-mile trail encircles Lake Tahoe and offers some of the best views in the region. It's divided into several segments, so you don't have to hike the entire trail. The Tahoe City to Brockway Summit segment is a popular choice.
If you're looking for a challenging yet rewarding hike, we recommend the Mount Rose Summit Trail. This moderately difficult trail takes you to the summit of Mount Rose, the highest peak in the Tahoe Basin. It's about a 10-mile round trip with stunning views of the lake and the surrounding area. Other popular trails include the Flume Trail, and the Glacier Meadow Loop.
South Lake: Eagle Falls Trail is a short and easy trail that leads to Eagle Falls, a beautiful waterfall in Emerald Bay. The hike is only 0.6 miles round trip and offers stunning views of the surrounding mountains and lake.
For a more challenging route, check out the Cal Neva Loop Via Van Sickle Trail. This trail is a moderate hike that takes you through the forest and offers stunning views of the surrounding mountains and of course Lake Tahoe itself. The trail is around a 3.5 mile round trip, which starts out at the Heavenly Village gondolas, walking through the Van Sickle Bi-State Park gate entrance. Some other popular hiking trails around South Lake Tahoe are the Lam Watah Trail, Mount Tallac Trail and the Glen Alpine Trail.
Camping Under the Stars
Make use of the warm summer weather and rough it for a few nights in one of Lake Tahoe's many camping grounds. Roast marshmallows for smores, sing campfire songs, stay up all night gossiping or stargaze with loved ones – camping in Lake Tahoe in where lasting memories are made. North Lake Tahoe campgrounds include the William Kent Campground and Sagehen Creek Campground and many more.
South Lake Tahoe also has a few great campgrounds to choose from, like the Fallen Leaf Lake Campground, Eagle Point Campground and many more. Whether you have an RV, motorhome or looking for a safe and scenic place to pitch a tent, Lake Tahoe's campgrounds have got you covered.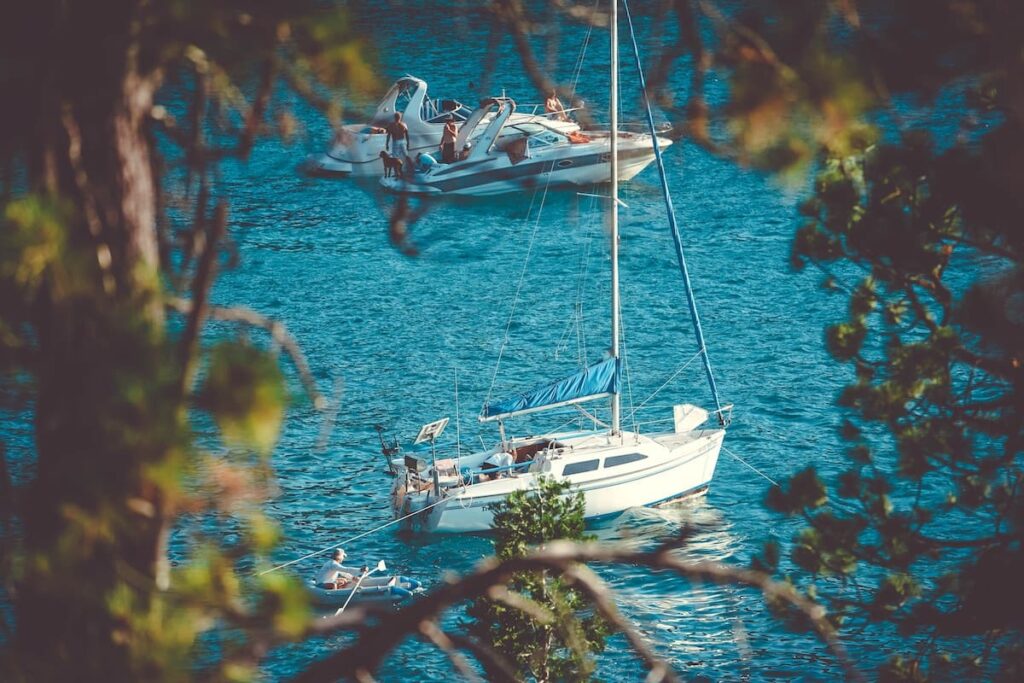 Boat Cruises
Some of the best views of Lake Tahoe are seen from the water itself, so climb aboard one of Lake Tahoe's different boat cruises for an unforgettable experience. Whether you're looking for a quiet sailboat during the day, a sunset dinner cruise, or even a thrilling party on a speedboat, Lake Tahoe has something for everyone.
If you're staying in a rental cabin in North Lake Tahoe, there are great cruise options available, including the Sierra Cloud, a 55-foot sailboat available for private charters offering both daytime and sunset cruises. For those looking to charter a boat for a small intimate group, the Wood Goose II is the ideal choice.
If you're located in a South Lake Tahoe vacation rental, you have multiple cruises to choose from. For those looking to party under the summer sun, the Rum Runner leaves Camp Richardson daily for party cruises and private charters. For the thrill seekers, check out Tahoe Thunder, a 33-feet speed boat waiting to whizz you around lake tahoe and get your heart pumping.
A Summer to Remember in Lake Tahoe
Lake Tahoe is a true gem in the summer, offering a diverse mix of activities and adventures that cater to all tastes and ages. From the tranquil shores of its stunning beaches to the challenging trails of its surrounding mountains, the lake's beauty is sure to captivate and inspire.
Whether you are seeking relaxation or adventure, Lake Tahoe has something for everyone. So whether you choose to spend your day on a paddleboard gliding across the crystal-clear waters, hiking to an awe-inspiring vista, or simply relaxing on a sandy beach with a good book, Lake Tahoe's summer splendor awaits.
Check out Lake Tahoe's luxury vacation rentals for you to call home during your stay. With so many comfortable, stylish homes with unbeatable amenities, having a luxury cabin to call your own during your stay elevates your trip to the next level. There's no doubt that once you've experienced a Lake Tahoe summer, you'll find yourself longing to return.
Commonly Asked Questions About Things To Do in Lake Tahoe in Summer
Can you swim in Lake Tahoe in the summer?
Yes, you can swim in Lake Tahoe in the summer. The lake's water is clear and refreshing, though it can be quite cold as it's a mountain lake.
Where can I rent a boat or kayak in Lake Tahoe?
Boat and kayak rentals are available at numerous locations around the lake, including Tahoe City Kayak in North Lake Tahoe and Kayak Tahoe in South Lake Tahoe.
Can I fish in Lake Tahoe?
Yes, you can fish in Lake Tahoe. The lake is home to various fish species like Mackinaw trout, Rainbow trout, and Kokanee salmon. Be sure to check local fishing regulations.
Are there pet-friendly beaches in Lake Tahoe?
Yes, there are several pet-friendly beaches in Lake Tahoe, including Kiva Beach in South Lake Tahoe and Coon Street Dog Beach in North Lake Tahoe.