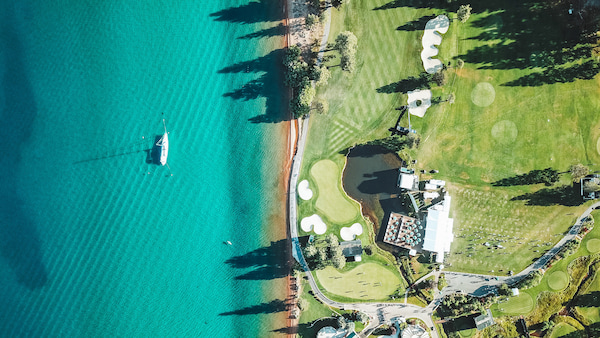 A Guide to The Best Golf Courses in Lake Tahoe
Welcome to Lake Tahoe, a golfer's paradise nestled in the Sierra Nevada Mountains where big blue skies meet crystal-clear lakes and sprawling greens. This guide highlights the region's finest golf courses, each offering unique charm and challenges. From seasoned pros to enthusiastic novices, the balance of relaxation and excitement these courses provide is unparalleled.
To complement your golfing journey, we've curated a selection of Lake Tahoe Golf Course vacation rentals. These luxurious homes, scattered across the sun-kissed South Shore and rugged North Shore, offer stunning golf course vistas for an immersive golf getaway.
So, pack your clubs and prepare for breathtaking views as we embark on this Lake Tahoe golfing adventure!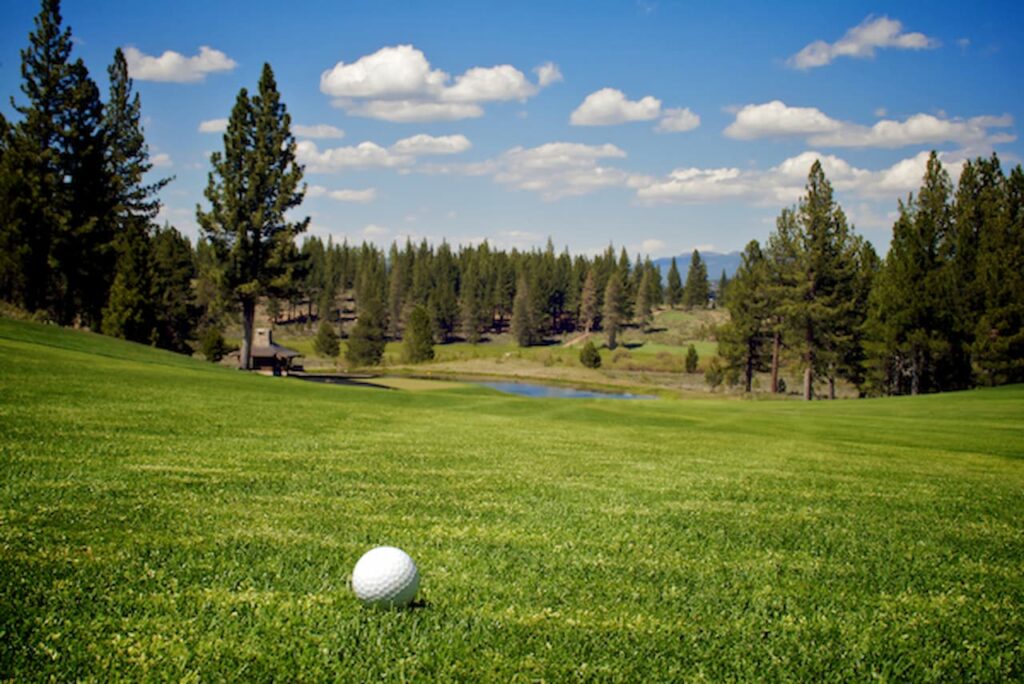 Tee Off in Lake Tahoe
Lake Tahoe is home to numerous world-class golf courses. Here are a few that stand out and deserve a spot of your to-do list on your next golf trip to Lake Tahoe;
Edgewood Tahoe Golf Course (South Lake Tahoe)
Edgewood Tahoe Golf Course, located on the south shore of Lake Tahoe, is a standout amongst the region's numerous scenic courses, offering stunning views and an impressive layout.
Designed originally by George Fazio and later refined by his acclaimed nephew, Tom Fazio, Edgewood Tahoe has been a fixture in the golfing world since it first opened in 1968. The course is set against the backdrop of one of the most picturesque landscapes in the world, combining the tranquil waters of Lake Tahoe with the majestic Sierra Nevada Mountains.
Edgewood Tahoe is a par-72 course that stretches over 7,500 yards from the championship tees. It's renowned for its challenging yet fair layout that winds through stately pine forests and opens onto lakefront fairways. Each hole offers its unique set of challenges and rewards, with the 9th and 18th holes featuring exciting waterside finishes.
Adding to its prestige, Edgewood Tahoe has been the host of the annual American Century Celebrity Golf Championship since 1990. This televised tournament attracts numerous sports and entertainment celebrities, further elevating the course's status on the national stage.
Amenities at Edgewood Tahoe include a fully stocked pro shop, a state-of-the-art practice facility, and a clubhouse featuring the Edgewood Restaurant, lauded for its gourmet cuisine and panoramic views of Lake Tahoe.
Incline Village Championship Course (North Lake Tahoe)
Incline Village Championship Course, nestled in the heart of North Lake Tahoe, is an impressive golfing destination that offers a challenging, yet satisfying, round of golf amidst breathtaking mountain views.
This par-72 course was designed by the legendary Robert Trent Jones Sr., who crafted an engaging layout that weaves its way through the beautiful Tahoe forest. The course stretches over 7,106 yards from the championship tees and features tight fairways and well-bunkered, fast greens, requiring a combination of both power and precision from golfers.
Notable for its strategic design, the Incline Village Championship Course boasts some dramatic elevation changes, water hazards, and tricky doglegs. The par-4 16th hole, fondly referred to as "the Creek," is particularly memorable. It calls for an accurate drive to avoid the creek on the right and the pond on the left, before approaching a well-guarded green.
The course is known for being impeccably maintained, with the fast and true greens receiving particular praise. This commitment to quality extends to the entire facility. The clubhouse includes a fully stocked pro shop and a restaurant with a bar that offers stunning views over the course.
Incline Village Championship Course's blend of beautiful scenery, challenging golf, and excellent facilities makes it a must-play course when visiting the Lake Tahoe region. It's a perfect representation of mountain golf at its finest.
Old Greenwood Golf Course (Truckee)
Old Greenwood Golf Course in Truckee is a highlight of the Lake Tahoe area, delivering top-notch golf amidst the beauty of the Sierra Nevada mountains. This Jack Nicklaus signature course presents golfers with a delightful fusion of tranquil, woodland surroundings and a challenging yet fair golf layout.
Established in 2004, the Old Greenwood Golf Course is a par-72 that stretches across a formidable 7,518 yards from the championship tees. Its design is masterful, bearing the hallmarks of Nicklaus' intelligent approach to course architecture. The course threads through towering pines and features beautiful natural water features, offering a mix of risk-reward holes that cater to both aggressive and cautious golfers.
One of the standout holes is the par-5 18th, offering golfers a fantastic finish with its strategic bunkering and an approach shot over water. Whether you're going for an eagle or playing it safe for a closing par, this hole encapsulates the excitement and strategy found throughout the course.
Aside from the course itself, Old Greenwood boasts exceptional facilities. The Golf Academy at Old Greenwood, led by renowned coach Keith Lyford, provides top-tier golf instruction and features state-of-the-art practice facilities, including a driving range, putting greens, and short game areas.
The Links at Everline Resort (Olympic Valley)
The Links at Everline Resort, set in the heart of Olympic Valley beside Lake Tahoe, is a spectacular destination that offers more than just a round of golf—it offers an experience. Featuring a stunning golf course designed by the renowned Robert Trent Jones Jr., the resort presents an opportunity to play in a unique environment with breathtaking mountain surroundings.
The golf course at the Resort at Squaw Creek is a par-71 that stretches over 6,931 yards. Designed with careful consideration of the environment, it features a unique mix of links-style play and traditional mountain design, characterized by well-bunkered greens and dramatic elevation changes. This seamless blend results in a strategic and exciting layout that challenges golfers of all skill levels.
Notable holes include the par-3 5th, with its demanding shot over water to a well-guarded green, and the risk-reward par-5 9th, a real test of nerve and precision. The course is known for its meticulous upkeep, ensuring a pleasant play experience.
Beyond golf, the resort offers a wealth of activities and amenities. With several dining options, a luxurious spa, and a range of recreational facilities, there's no shortage of ways to unwind after a round of golf. Moreover, the resort's commitment to preserving the natural environment, evident in the Audubon International Cooperative Sanctuary certification it received, adds to the special aura of the place.
Coyote Moon Golf Course (Truckee)
Another great golf course located in the historic town of Truckee is Coyote Moon Golf Course, a stunning golf destination that offers a peaceful and captivating golfing experience. Designed by former PGA Tour pro Brad Bell, the course takes full advantage of its serene mountain setting.
Coyote Moon is a par-72 course that spans over 7,177 yards, offering a superb blend of picturesque tranquility and challenging golf. The course is set in a carefully preserved mountain environment, devoid of residences, which ensures an uninterrupted connection with nature. The tall pines and wildflowers, combined with the course's manicured fairways and greens, make each hole a visual delight.
The layout features diverse terrain, with numerous elevation changes, water hazards, and strategic bunkering. The course is known for its significant carries over ravines, particularly notable on holes like the par-3 13th, where golfers face a daunting tee shot over a canyon to a large, sloping green.
Despite its challenges, Coyote Moon is accessible for golfers of all skill levels, with multiple tee boxes offering different levels of difficulty. The course is renowned for its excellent upkeep, with particularly praise-worthy fairways and greens. Adding to its charm, wildlife sightings are common at Coyote Moon, making a round of golf here a truly immersive experience in nature.
Take the Fairway to Heaven in Lake Tahoe
And there you have it – a glimpse into the exceptional world of golfing in Lake Tahoe. Each course, with its unique blend of natural beauty and architectural design, offers a golfing experience that transcends the ordinary. Whether it's the lakeside splendor of Edgewood Tahoe, the serene mountain landscape of Coyote Moon, or the strategic challenge of Incline Village, you're sure to find a course that matches your play style and aesthetic preferences.
But remember, the true essence of Lake Tahoe's golfing charm is best experienced rather than read about. So pack your golf clubs, book your Lake Tahoe Golf Course vacation rental, and prepare to immerse yourself in a golfing adventure unlike any other.
Here's to sunny skies, pristine greens, and your best round yet in the heart of the magnificent Sierra Nevada – happy golfing in Lake Tahoe!
A few commonly asked questions about golfing at Lake Tahoe
When is the best time to golf at Lake Tahoe?
The golf season in Lake Tahoe typically runs from late May to mid-October, depending on the weather. The summer months of June, July, and August offer the most reliable weather and are considered the best time for golfing.
What should I wear while golfing at Lake Tahoe?
Given the mountainous location, temperatures can vary. Dressing in layers is recommended. A light, water-resistant jacket can be beneficial for unexpected showers or cooler mornings/evenings. Golf shoes or athletic shoes are advisable, and don't forget a hat and sunscreen for protection from the sun.
Are there golf courses suitable for all skill levels?
Yes, Lake Tahoe offers a wide variety of courses that cater to all skill levels, from beginner to professional. Many of the courses have multiple tee boxes that alter the difficulty of the course.