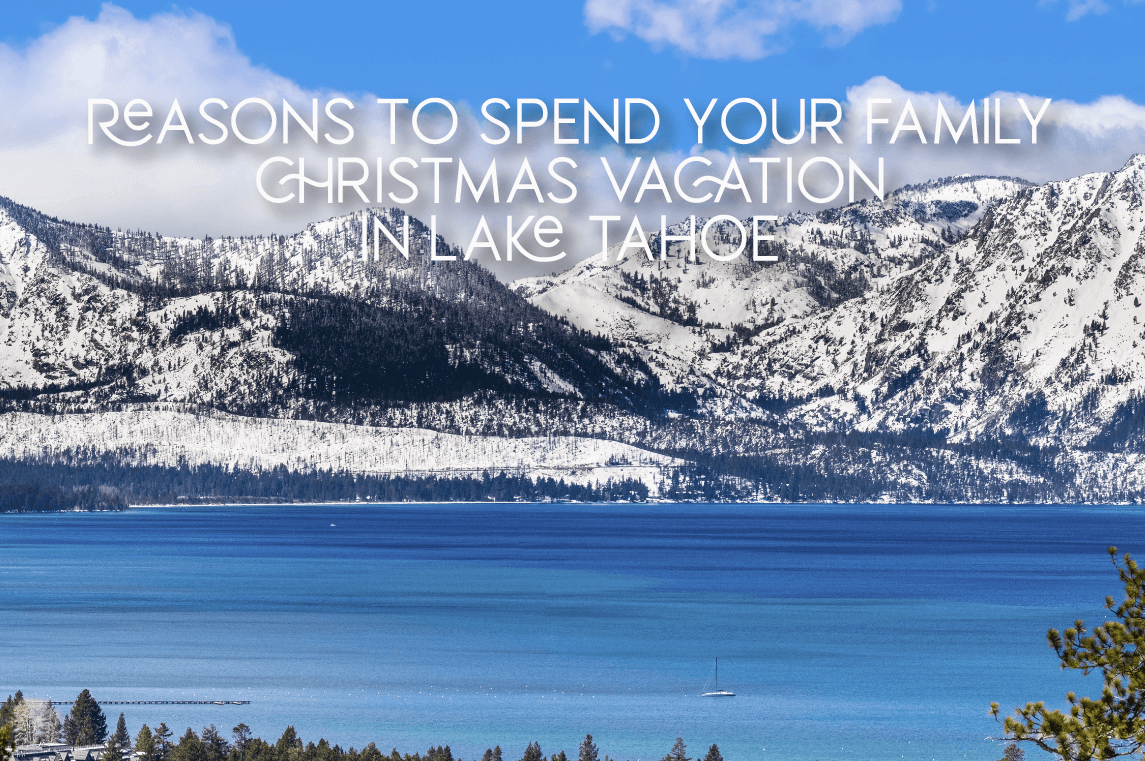 Top 5 Reasons to Spend Christmas in Lake Tahoe, 2023
Once the chilly winds of December begin to blow, the festive season has arrived! This holiday season, imagine waking up to a pristine blanket of snow, shimmering alpine waters, and the peaceful silence of the Sierra Nevada mountains. This is Christmas in Lake Tahoe. As one of the most sought-after winter destinations, Lake Tahoe presents a festive season that marries the wonders of nature with the warmth of holiday spirit. For those desiring the quintessential winter escape, Lake Tahoe Vacation Rentals offer a gateway to this festive paradise. Join us as we explore the holiday festivities and scenic splendors that make a Lake Tahoe Christmas truly unforgettable.
Lake Tahoe: A Dreamy Christmas Getaway
As the calendar pages flip and the festive season draws near, many start to search for the perfect destination to make their holidays memorable. And when it comes to blending natural splendor, festive ambiance, and a touch of winter magic, Lake Tahoe emerges as the ultimate choice. Here are a few reasons why you should make Lake Tahoe your home this holiday season.
A Winter Wonderland with Snow-Capped Peaks
One of the best things about spending Christmas in Lake Tahoe is the stunning scenery. The snow-capped peaks and pine forests create a winter wonderland that's straight out of a postcard. And whether you're enjoying the views from your lodge or taking a sleigh ride through the woods, there's no shortage of ways to appreciate the natural beauty of this region during the holidays.
Lake Tahoe truly transforms itself into a Winter wonderland straight out of a Disney film with its Christmas decorations. With twinkling lights and festive decorations adorning every street and shop window, these lakeside villages make for the most dreamy Christmas backdrop.
From Victorian-style lamp posts draped in garlands to towering evergreen trees covered in sparkling lights, there's no shortage of holiday cheer to be found throughout the region.
One of the best places to view Christmas lights is in the communities of Kings Beach and Tahoma. Both of these communities go all-out when decorating for the holidays, and their Christmas lights are indeed a sight to behold. Another great place to see Christmas lights is along Highway 89. This road winds its way through some of the most beautiful scenery in Lake Tahoe, and at this time of year, it's especially lovely when adorned with twinkling Christmas lights. So if you're looking for a place to enjoy some holiday cheer, be sure to check out these Lake Tahoe hotspots.
A Haven for Winter Sports and Outdoor Activities
In the heart of winter, Lake Tahoe transforms into a snowy playground, offering an array of sports and activities that make the most of its picturesque landscapes. Christmas in Lake Tahoe beckons enthusiasts with its world-class ski and snowboard slopes, catering to both novices and seasoned athletes. However, beyond the exhilarating downhill runs, visitors can immerse themselves in cross-country skiing trails, carving paths through quiet forests and offering serene lake views.
For those seeking a gentler pace, snowshoeing across snow-blanketed meadows provides a magical way to explore the area's natural beauty. Families can indulge in festive fun with snowman-building, tobogganing, and ice skating, while adrenaline junkies might venture into snowmobiling or even paragliding over the winter wonderland. As the sun sets, nothing beats a horse-drawn sleigh ride, taking in the shimmering lights and the crisp alpine air, making Lake Tahoe a veritable Christmas paradise for outdoor enthusiasts.
Christmas Festivities
A Lake Tahoe Christmas promises an enchanting tapestry of festivities that seamlessly blend traditional charm with a touch of Tahoe magic. The region sparkles with vibrant holiday markets, where stalls adorned with twinkling lights offer handcrafted gifts, local artisanal treats, and unique souvenirs.
An annual highlight is the spectacular Christmas boat parade, where vessels, festooned with luminous decorations, glide gracefully over the lake's reflective surface, creating a mesmerizing dance of lights. Carriage rides through snow-dusted streets offer a nostalgic glimpse into yuletide's past, while carolers, dressed in festive attire, serenade locals and visitors alike with melodies of the season.
For the younger visitors, Santa's Village sets up a whimsical abode, complete with elf workshops, storytelling sessions, and the much-anticipated chance to meet Santa himself. With events and activites for all, both young and old, everyone is ensured a memorable holiday experience.
Luxury Accommodations
As the festive season approaches, Lake Tahoe stands ready, offering not just picturesque winter landscapes, but also luxury Tahoe accommodations that promise an unforgettable stay. For families in search of that perfect Christmas holiday home, Lake Tahoe showcases a trove of luxury chalets, blending comfort, elegance, and immediate access to the best ski slopes. Here are some of our top picks for you and your family this holiday season.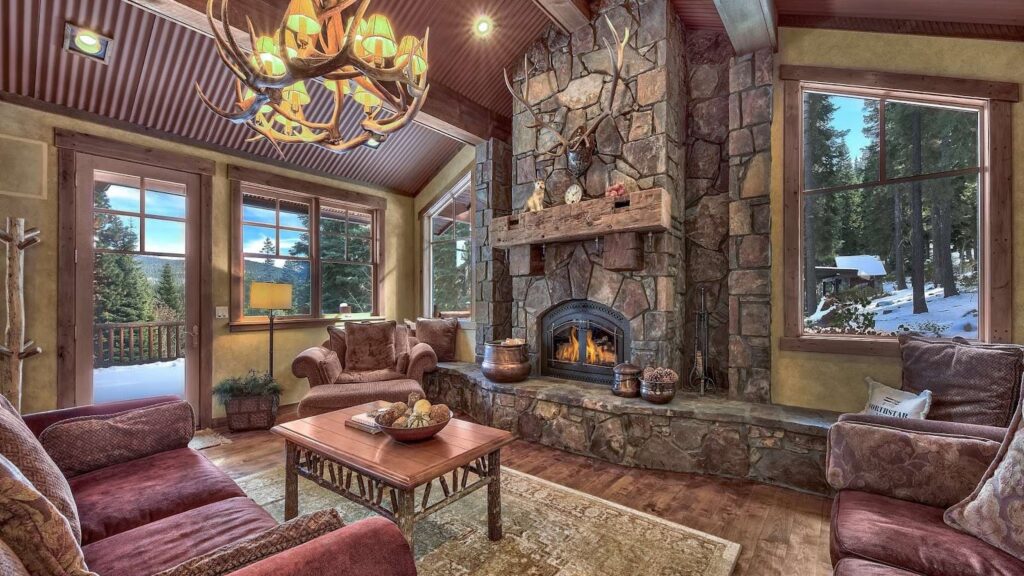 The Grouse Ridge Retreat
The Grouse Ridge Retreat: Located Truckee near Tahoe, this luxury 4.500 sq ft home is the epitome of mountain luxury, offering an exquisite blend of modern amenities and rustic charm. With spacious interiors adorned with bespoke wooden furnishings and roaring fireplaces, families can find solace and warmth after a day on the slopes.
Panoramic windows ensure you're never far from the stunning snowy vistas, even as you enjoy a festive meal indoors. Its ski-in/ski-out location (Less than 1,000 ft. walk to ski to gondola and Northstar Village), makes it the ideal spot for families who want to hit the slopes this Christmas.
Tahoe Treehouse
Tahoe Treehouse: Located in North Lake Tahoe, this unique chalat is truly one of a kind. Imagine waking up amidst the treetops with sweeping views of the snow-covered landscape. The Tahoe Treehouse offers just that – an elevated experience both in luxury and literally. Perfect for families, its multi-level design ensures space and privacy, while cozy communal areas, complete with festive decor, make for ideal spots to gather, celebrate, and create memories. The home is also minutes from Lake Tahoe and Northstar California Resort.
Saxon Creek Retreat
Saxon Creek Retreat: Nestled in the woods in South Lake Tahoe, the Saxon Creek Retreat is a haven for those seeking both luxury and tranquillity. Its contemporary design is accentuated with touches of Tahoe's natural beauty, creating a harmonious balance of elegance and earthiness.
With its prime location, families can effortlessly transition from a day of skiing to an evening of relaxation in the chalet's plush lounges or private outdoor hot tubs. The home also has access to Saxon Creek trail and endless acres of forest and miles of hiking and snowshoeing from the front door. Plus, easy access to Heavenly Valley Resort for all your winter sports needs.
Lake Tahoe's reputation as a premier winter destination is elevated by these exceptional accommodations, ensuring that your Christmas season is both festive, luxuriously and comfortable.
Get Ready for a Magical Lake Tahoe Christmas
As snowflakes start painting the alpine landscape, and the twinkling festive lights begin decorating Lake Tahoe's streets and homes, it beckons all seeking an unforgettable Christmas retreat. Whether you're here to carve down its slopes, enjoying a fireside cocoa in a luxury chalet, or simply basking in the seasonal spirit and festivities, Lake Tahoe captures the essence of a Christmas dream. Come and experience it for yourself, and let Tahoe's winter magic become a cherished chapter in your holiday memories.
Some commonly asked questions about spending Christmas in Lake Tahoe
Where are the best places to view Christmas lights in Lake Tahoe?
The best places to view Christmas lights in Lake Tahoe are Kings Beach, Tahoma and along Highway 89.
When do the Christmas festivities start in Lake Tahoe?
Generally speaking, the Christmas season starts on the last Friday in November with an early visit from Santa and the annual Holiday Tree Lighting at Heavenly Village.
Where is the best place to spend Christmas in Lake Tahoe?
The best spend Christmas in Lake Tahoe depends on if you want action and excitement or a quieter experience. South Lake Tahoe and its many hotels and casinos are definitely the places for nighttime action, while the local ski hills and the smaller towns to the north can be quieter and more stereotypical of the season.