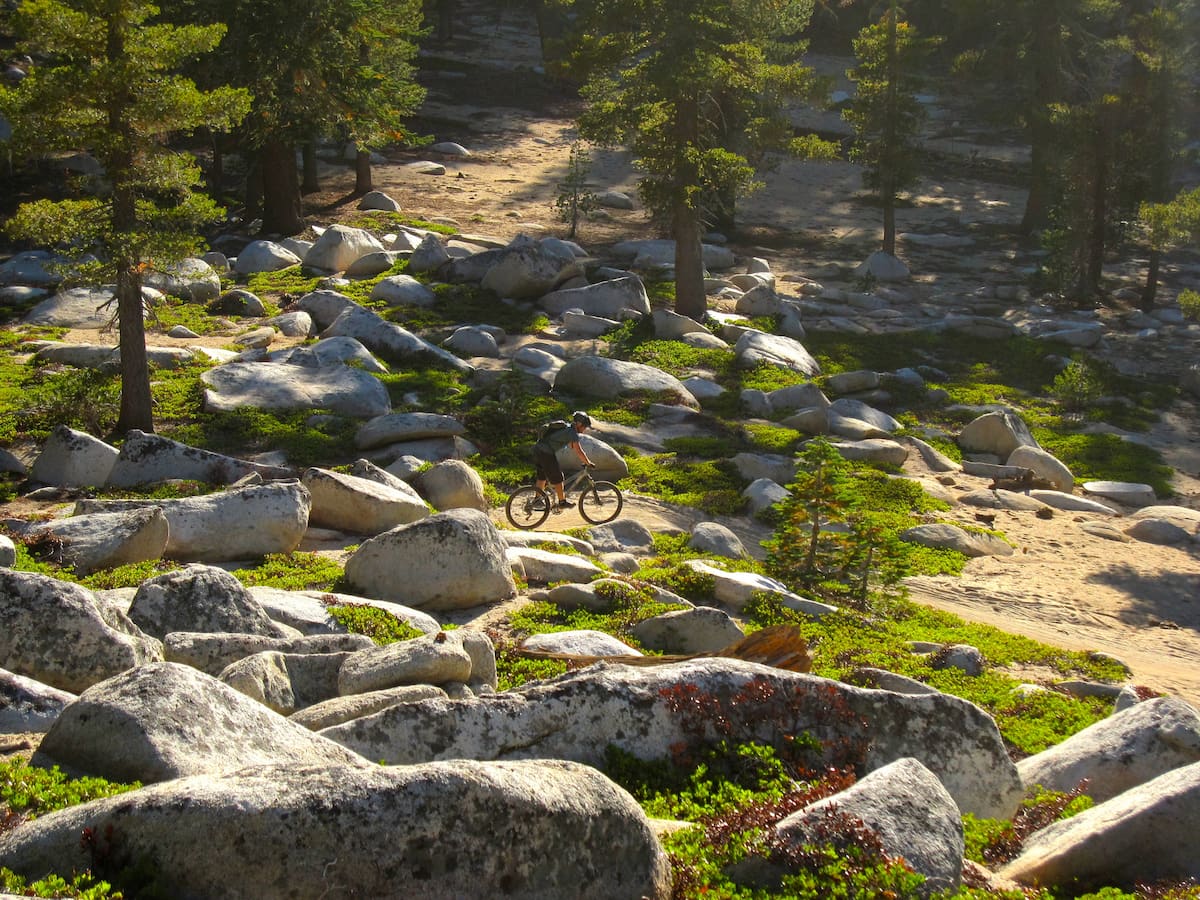 A Beginner's Guide to Mountain Biking at Lake Tahoe
Imagine yourself pedaling through breathtaking landscapes, surrounded by the majestic Sierra Nevada Mountains, the scent of pine trees filling the air, and the shimmering waters of Lake Tahoe at your side. Welcome to the exhilarating world of mountain biking in Lake Tahoe! Boasting a diverse array of trails suitable for all skill levels, including beginners, Lake Tahoe is an adventurer's paradise just waiting to be discovered on two wheels.
In this comprehensive beginner's guide, we'll share essential tips for getting started, introduce you to captivating trails in both South and North Lake Tahoe, and provide insider advice on making the most of your mountain biking experience in this awe-inspiring destination. For a complete immersion into the Lake Tahoe lifestyle, consider booking a Lake Tahoe vacation rental to enjoy the comforts of home while you explore the area's world-class mountain biking trails.
Getting Started with Mountain Biking in Lake Tahoe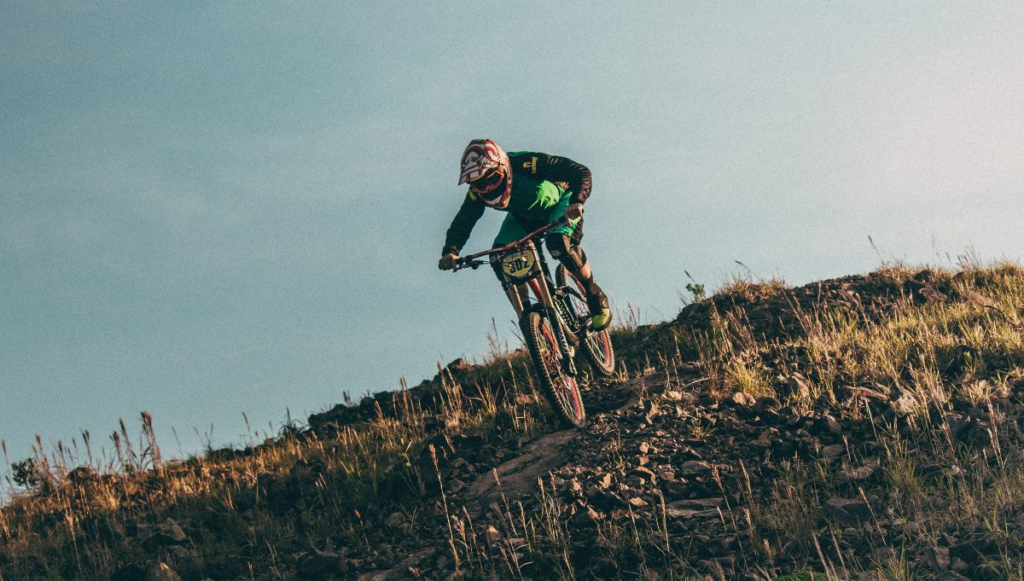 Before hitting the trails, it's essential to choose the right bike for your skill level and trail preferences. Beginners should opt for a hardtail mountain bike, which features front suspension and is more forgiving on the varied terrain of Lake Tahoe's trails. Additionally, ensure that the bike is properly fitted to your body size for maximum comfort and control.
Safety gear is crucial when mountain biking, especially for beginners. Invest in a quality helmet that meets safety standards, wear gloves for improved grip, and use protective eyewear to shield your eyes from debris. Padded shorts and moisture-wicking clothing can also enhance your overall comfort while riding.
As a beginner, familiarize yourself with basic mountain biking techniques, such as maintaining proper body positioning, shifting gears, and braking effectively. Building a solid foundation of skills will help you navigate the trails with confidence and enjoyment.
South Lake Tahoe: Discovering the Perfect Trails from Beginners to Advanced bikers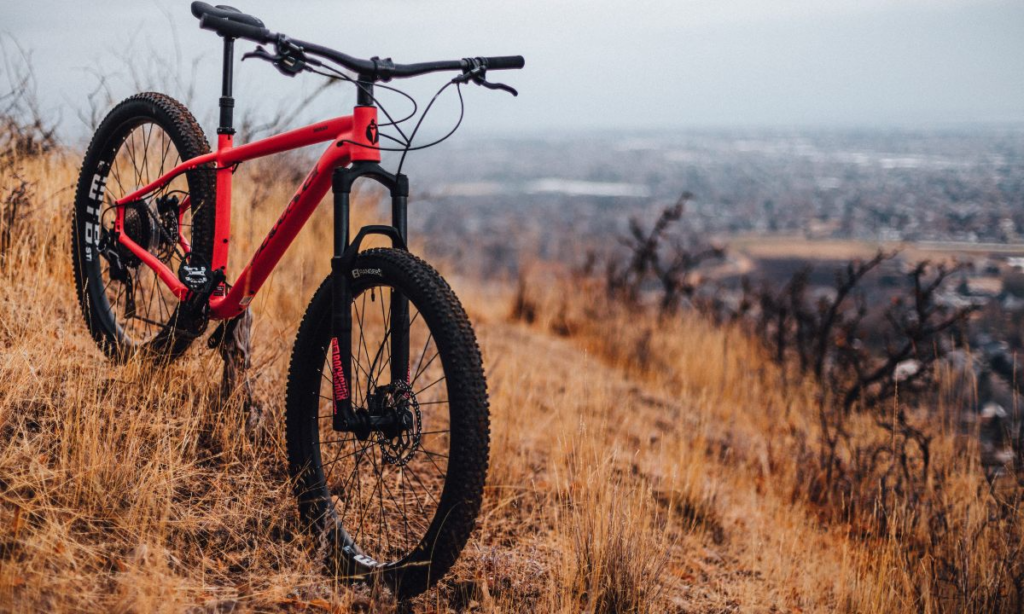 Mountain biking in South Lake Tahoe offers a wide array of amazing trails, each boasting unique features and spectacular views. Here are three popular options to get you started;
Powerline Trail
A good trail for beginners, the Powerline Trail features easy terrain with some minor hills and rocky sections. Located in South Lake Tahoe, this 8 mile tail is a great place to practice your biking skills before moving onto more challenging trails – hence why it's more suited to beginners starting out in mountain biking. The Powerline Trail runs through beautiful meadows and pine forests and offers great views of Mount Tallac. It's also an excellent place to spot local wildlife.
Tahoe Mountain Loop
Loacted in South lake Tahoe, The Tahoe Mountain Loop trail is a captivating blend of excitement and beauty for mountain biking enthusiasts. Set amidst the picturesque backdrop of Lake Tahoe, this intermediate-level route promises an exhilarating ride across a varied terrain. Spanning approximately 9.6 miles, the trail embraces lush forest pathways, offering sublime views over expansive meadows, peaks and both Lake Tahoe and Fallen Leaf Lake.
A key attraction of the Tahoe Mountain Loop is the Cold Creek Trail, famed for its descent through a mesmerizing alpine forest. It is an intermediate trail that serves up an exhilarating mix of technical sections, fast downhill runs, and a dash of high-altitude beauty that makes it a must-ride for any mountain biker visiting Tahoe. Its fast downhill pace would make it suitable for intermediate to advanced mountain bikers.
After a ride on one of these trails, refuel at the nearby Verde Mexican Rotisserie, a popular eatery offering healthy, flavorful meals, or grab a coffee and snack at a local cafe.
Mr. Toad's Wild Ride
Mr. Toad's Wild Ride is an iconic, adrenaline-fueled mountain biking trail in South Lake Tahoe. This 10-mile singletrack is a rollercoaster ride, packed with steep, technical descents, tight switchbacks, and rocky terrain. It's a route that challenges even experienced riders, requiring technical prowess and robust physical fitness – making it suitable for advanced riders.
However, the heart-racing thrills are well worth the effort, with stunning alpine views, lush forest passages, and a real sense of achievement at the finish line. Named for its wild and exciting nature, Mr. Toad's Wild Ride is a Lake Tahoe must-ride for any seasoned mountain biker. It winds through thick forests and across creeks, offering some of the most adventurous and scenic biking in the area.
Mountain Biking in North Lake Tahoe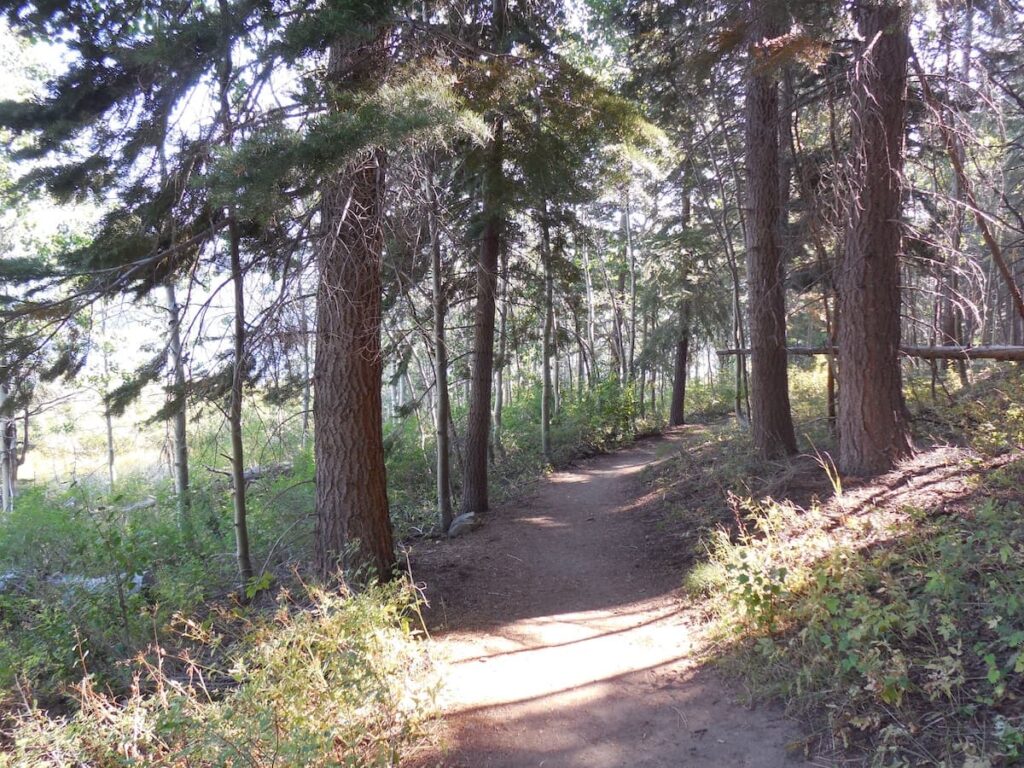 Mountain biking in North Lake Tahoe is equally thrilling, with numerous beginner-friendly trails to explore. Here are a few top picks;
Sawtooth Ridge Loop
This 10-mile loop offers a gentle introduction to the stunning terrain of North Lake Tahoe. With minimal elevation gain and a mostly smooth trail surface, beginners can enjoy a leisurely ride through picturesque forests and meadows.
Emigrant Trail
The Emigrant Trail in Lake Tahoe is a compelling draw for mountain bikers seeking a blend of historical resonance and natural beauty. Tracing a route once tread by pioneers, this 20-mile round-trip trail offers a relatively moderate ride, making it accessible for riders of various skill levels.
Located in Truckee, north of Lake Tahoe, this trail winds through fragrant pine forests, streams and open meadows, providing a serene, picturesque setting. The terrain is primarily smooth and flowy, with a few rocky sections and gentle climbs, perfect for bikers seeking a more relaxed journey through Tahoe's history and natural grandeur. An adventure on the Emigrant Trail offers not just a thrilling ride, but a journey back in time.
Paige Meadows Trail
This 6-mile loop meanders through serene meadows, offering splendid views of Lake Tahoe and the surrounding mountains. With minimal technical challenges and a gentle elevation gain, Paige Meadows Trail is ideal for novice riders looking to soak in the area's natural beauty.
Post-ride, swing by one of the popular eateries like the Fire Sign Cafe in North Lake Tahoe for a satisfying breakfast or lunch, or treat yourself to a refreshing smoothie at a local juice shop.
Flume Trail
The Flume Trail is a 14-mile trail and is one of the most scenic in the area and offers an incredible view of Lake Tahoe. It is located on the northeast side of Lake Tahoe and is suited for beginners to intermediate bikers. While not particularly technical, it requires a good fitness level due to its long uphill sections. This trail offers remarkable views of Lake Tahoe and its surrounding mountains. You'll ride through forests, open meadows, and even past Marlette Lake before reaching the astonishing Tahoe vista.
Tahoe Rim Trail
Spanning over 170 miles around the lake, The Tahoe Rim Trail has sections that are open to mountain bikers. The "Bench" section, between Tahoe Meadows and Spooner Summit, is a particularly popular stretch with flowy descents, challenging climbs, and stunning views. The Brockway Summit to Martis Peak section is popular for mountain biking. It is located on North Lake Tahoe and is around a 20-mile round trip. This section of the Tahoe Rim Trail provides some of the best panoramic views of Lake Tahoe, surrounding peaks, and deep forest valleys. Note that this trail can be quite challenging with steep ascents and descents so it is more suited to advanced bikers.
Top Tips for Mountain Biking in Lake Tahoe
Mountain biking is not for the faint of heart, so being adequately prepared is essential. Follow these top tips and you're in an unforgettable experience. Here are some top tips to ensure a successful and enjoyable ride;
Know Your Trails: Lake Tahoe is home to a vast array of trails varying in difficulty. Do your research to find a trail that matches your skill level, and familiarize yourself with its layout, potential hazards, and points of interest before setting off.
Gear Up: Make sure you have the right equipment. This includes a well-serviced bike suitable for mountain trails, a helmet, gloves, and appropriate clothing for the weather conditions. Don't forget to pack a repair kit with tools and spare parts, such as inner tubes.
Stay Hydrated and Energized: Mountain biking is physically demanding, and the high altitude can intensify its effects. Bring plenty of water and high-energy snacks to keep your energy levels up.
Respect the Environment: Stick to marked trails to minimize your impact on the environment, and never leave litter behind. Remember that you're sharing the trails with wildlife and other users, so be respectful and mindful.
Be Aware of Altitude: The altitude at Lake Tahoe can be challenging for those not accustomed to it. Take it easy on your first day or two to acclimate, and consider shorter routes until you're comfortable.
Prepare for Changing Weather: Weather in the mountains can change quickly, so bring layers and be prepared for various conditions, even in summer. Always check the weather forecast before heading out.
Safety First: Always let someone know where you're going and when you plan to return. It's also a good idea to ride with a buddy, especially on more remote trails.
Learn Basic Maintenance: Knowing how to fix a flat tire or adjust your brakes can save you a lot of trouble on the trail. Consider taking a basic bike maintenance class before your trip.
Mountain Biking in Tahoe: Guided Tours, Bike Rentals, and Pit Stops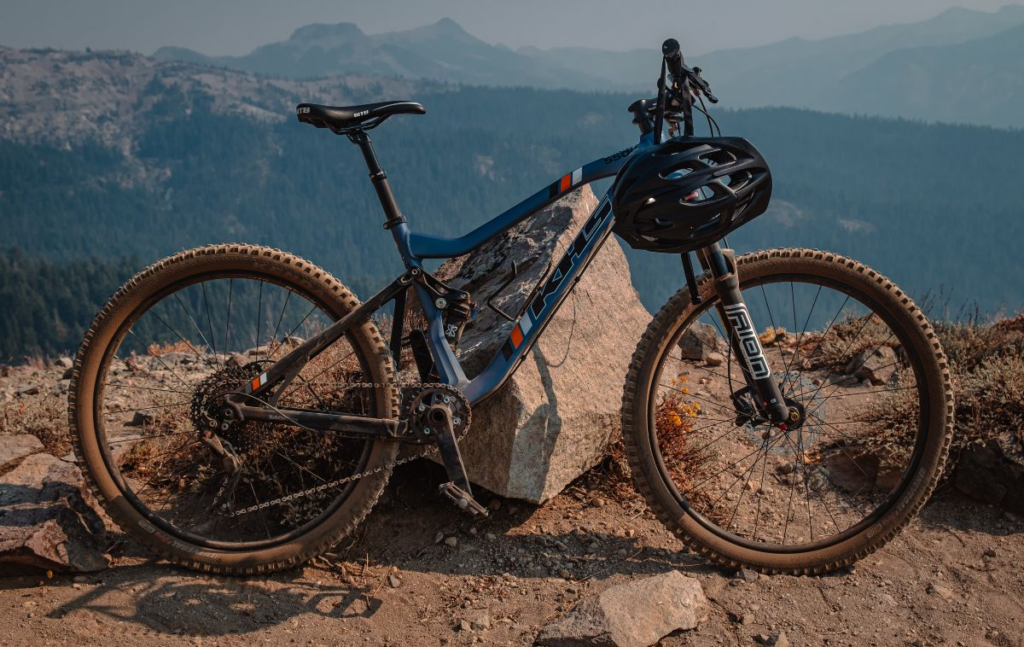 If you prefer to embark on your mountain biking adventure with expert guidance, consider joining a guided tour. Local tour companies in Lake Tahoe specialize in beginner-friendly excursions, ensuring a safe and enjoyable experience tailored to your skill level. Tours often include bike rentals, helmets and other necessary gear, making them a convenient option for first-time riders.
For those who prefer to explore independently, several bike rental shops in Lake Tahoe offer a wide selection of mountain bikes suitable for beginners. Renting a bike allows you to test different models and find the perfect fit for your needs. Be sure to consult with the shop staff, as they can provide valuable insights into the best trails for your skill level and recommend nearby amenities and attractions.
Pit stops along the trails offer opportunities to rest, hydrate, and take in the breathtaking scenery. Look for designated rest areas or scenic overlooks where you can pause to capture photos and enjoy a well-deserved snack. Remember to pack plenty of water and high-energy snacks to fuel your outdoor adventure. 
Making the Most of Your Lake Tahoe Mountain Biking Experience
To fully appreciate the beauty of mountain biking in Tahoe, plan your visit during the optimal months for riding. Late spring through early fall generally offer the best weather and trail conditions, although specific trails may vary depending on elevation and snowpack.
When venturing out on the trails, always practice proper trail etiquette. Yield to other trail users, respect the environment by staying on designated paths, and pack out any trash you generate. These simple actions help preserve the pristine beauty of Lake Tahoe for future generations.
After a day of exhilarating riding, refuel at one of the many nearby restaurants or cafes, and unwind by browsing local shops for unique souvenirs. For a truly immersive experience, consider booking a Lake Tahoe vacation rental to enjoy the comforts of home while you explore the area's world-class mountain biking trails.
Mountain biking in Lake Tahoe is an unforgettable experience for beginners and seasoned riders alike. With a wealth of beginner-friendly trails, stunning natural beauty, and a supportive local community, Lake Tahoe is the perfect destination for those looking to discover the joys of mountain biking. So gear up, hit the trails, and let the adventure begin!
Come Tire Yourself Out on the Trails in Lake Tahoe
We hope this guide to mountain biking in Lake Tahoe helps you in your planning. Whether you're feeling the adrenaline rush on Mr. Toad's Wild Ride, navigating the forested terrain on the Cold Creek trail, or tracing history along the Emigrant Trail, Lake Tahoe has a way of embedding itself in your heart, one pedal stroke at a time.
While conquering the trails, remember to take in the breathtaking views, inhale the crisp mountain air, and truly appreciate the grandeur of nature. Mountain biking is more than a sport or a pastime; it's a lifestyle that connects us to the environment, tests our limits, and fills us with a sense of accomplishment.
So, gear up, stay safe, respect the environment, and let the Tahoe trails lead you to unforgettable adventures. Your mountain biking journey in Lake Tahoe is not just about the destination—it's about the ride. See you on the trails!
Some commonly asked questions about mountain biking in Lake Tahoe:
When is the best time to go mountain biking in Lake Tahoe?
The optimal time for mountain biking in Lake Tahoe is from late spring through early fall (May to October), when the weather is mild, and most trails are free from snow.
Are there beginner-friendly mountain biking trails in Lake Tahoe?
Yes, Lake Tahoe offers a variety of beginner-friendly trails, such as the Powerline Trail in South Lake Tahoe and Sawtooth Ridge Loop in North Lake Tahoe, which cater to those new to the sport.
Are there any mountain biking trail etiquette rules I should be aware of in Lake Tahoe?
Yes, it's essential to practice proper trail etiquette, such as yielding to other trail users, staying on designated paths, and packing out any trash you generate. These actions help preserve the pristine beauty of Lake Tahoe and ensure a positive experience for all trail users.